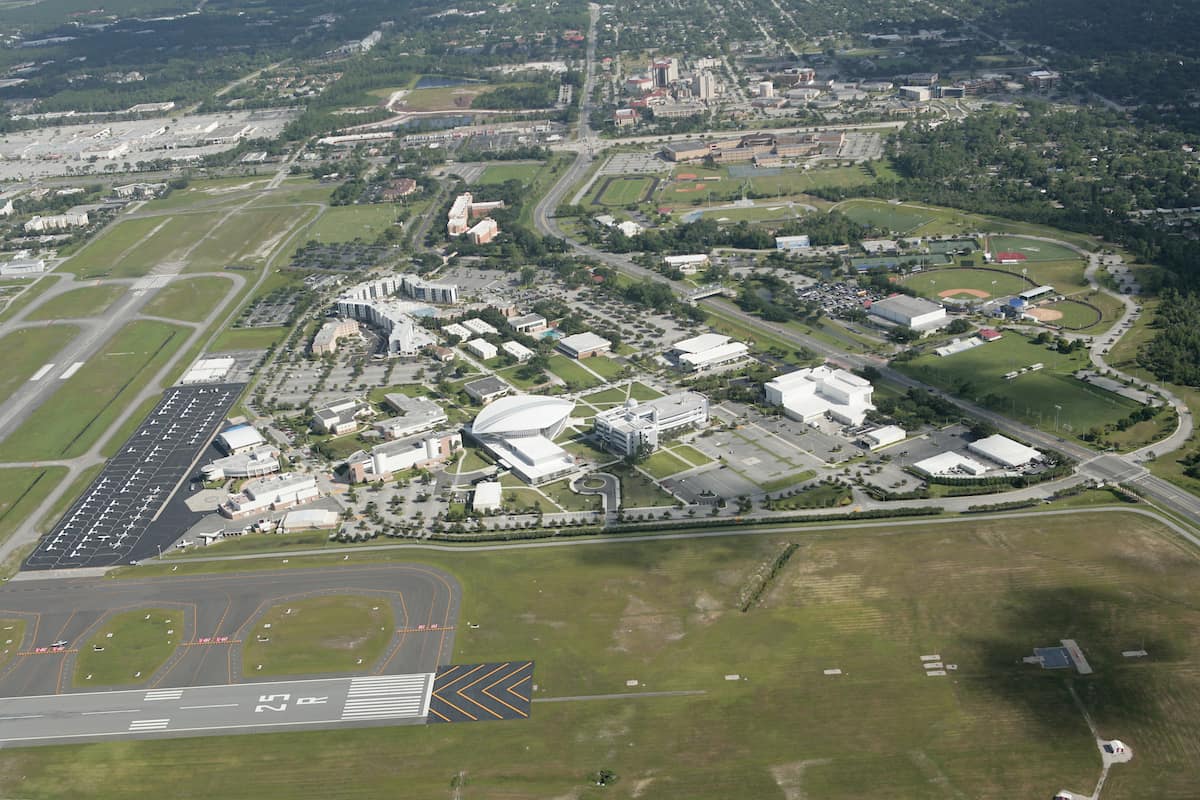 Operating Seven Days a Week, 51 Weeks a Year
Embry-Riddle's Flight Department operates seven days a week, 51 weeks a year, only shutting down during the Fall/Spring semester break. Normal hours of operation are 6 a.m. to midnight.
With more than 900 flight students and 120-plus flight instructors, Embry-Riddle is the largest aviation training center in Central Florida. Our practice area reaches north to St. Augustine, west to Leesburg, and south to Titusville, providing nearly 450 square miles for local training.
During cross-country training, our students can be found anywhere from Nashville, TN, to Key West, FL.
Department Location
The Flight Training Department is located at our campus in Daytona Beach, FL. Our Flight Line is within walking distance of all dorms and classrooms. That means our students don't have to catch a shuttle to take them to where the airplanes are. It doesn't get any easier than that.
Sitting on the eastern side of the airport, our flight ramp stretches nearly a quarter of a mile to accommodate our fleet of 60-plus airplanes. Daytona Beach International Airport offers the opportunity to fly in an active Class C airspace, where students learn to work with air traffic control and other operators ranging from flight-training aircraft to scheduled air carriers. This mix of airplanes coming in and out of Daytona Beach serves as a great learning tool for our students and helps prepare them for careers as professional pilots.
Multiple instrument approaches are available at the airport, as well as full radar services provided by ATC. Very few other flight schools can offer this combination of convenience, safety, and exceptional learning environment.
And, of course, the weather is almost always ideal for flight training, which means our students spend more time in the air and less time "grounded" waiting for the weather to clear.
Professional & Commercial Airline-Style Approach
As a flight student at Embry-Riddle, you'll be introduced to an airline-style approach to flight training. Our structured system teaches each student the importance of thorough preflight preparation, safety-minded flight operations, and a rigorous academic approach to understanding the theory and principles that make flight possible.
Our modern fleet is equipped with the same avionics and flight instrumentation that can be found in today's airliners. Using the latest in fleet management software and flight-tracking equipment, we're able to dispatch and retrieve hundreds of flights every day.
All of our students play a critical role in this process, and their attitudes as professional pilots make it all possible. Each of our graduates are fully prepared for the airline environment because they've been living it for the last four years.
Nothing is more satisfying than taking novice flight students and turning them into commercial pilots who are primed and ready for careers as airline pilots. We look forward to each new class of flight students, and we hope you'll let us show you why Embry-Riddle has put more pilots in the cockpits of major airlines than any other flight school in the country.
Special VFR Productions