When: Monday, May 7th
Time: 10:00 a.m.
Where: Ocean Center, Daytona Beach, Florida
NOTE: A complete digital version of the Spring 2018 Commencement program can be accessed HERE.
Commencement Speaker: Joseph "Joe" Martin
Longtime Embry-Riddle Aeronautical University Board of Trustees member and former senior semiconductor industry executive, Joseph "Joe" Martin has spent his life serving his country, successfully transforming the technology industry through leadership, inspiring future generations with speaking engagements and giving back to his alma mater.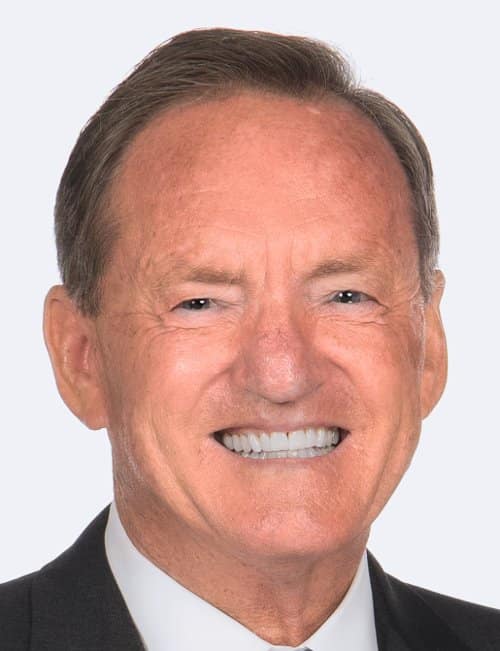 One of seven children, Mr. Martin grew up in Philadelphia, Penn., and after attending only one semester of college, joined the U.S. Army at age 19. He became a helicopter pilot and held the rank of captain, serving two tours of duty in Vietnam. His military honors include the Distinguished Flying Cross, the Purple Heart, two Bronze Stars, 22 Air Medals,and the Vietnamese Cross of Gallantry.

Following his Army service, Mr. Martin attended Embry-Riddle's Daytona Beach, Fla., campus where he was a member of the student senate, president of the senior class, president of Alpha Eta Rho fraternity, and was the student graduation speaker. In 1974, armed with a Bachelor of Science degree from Embry-Riddle, he went on to earn an MBA from the University of Maine.

A retired Co-Chairman and Vice Chairman of the Board of Directors with Fairchild Semiconductor Corp. – a global supplier of power semiconductors – he also served as Executive Vice President and Chief Financial Officer. For his leadership in guiding the spinout of Fairchild from National Semiconductor, he was named 2002 CFO of the Year by CFO Magazine.

Prior to Fairchild, Mr. Martin was Vice President of Finance, Worldwide Operations, at National Semi-Conductor, with responsibility for all operating divisions, manufacturing sites, and corporate financial planning. He was also Founder, Senior Vice President, and Chief Financial Officer of VTC Inc.

In addition to extensive experience as a featured speaker at numerous professional conferences, forums and events, Mr. Martin has served on multiple industry leadership boards. He currently is on the boards of three publicly traded companies – Chairman of the Board at Brooks Automation Inc. (provider of automation and cryogenic solutions for semiconductor manufacturing and life sciences), Collectors Universe Inc., (an authentication services company), Bionik Labs (a robotics in-motion solution company), and privately-held semiconductor company, Allegro Microsystems.

He reconnected with his alma mater as part of Embry-Riddle's President's Council from 2002 to 2005, during which he also was the 2003 Daytona Beach Campus commencement speaker. In 2005, Mr. Martin was elected to Embry-Riddle's Board of Trustees of which he is the Treasurer, Chairman of the Finance Committee, Vice-chairman of the Investment Committee, Co-Chairman of the Development Committee and serves on the Committee on Trustees, Audit, Executive, and Facilities & Capital Planning Committees.

The father of five resides in Naples, Florida, with his wife, Solange Albuisson, and enjoys golf, skiing in the French Alps, reading, traveling, and precious time with his family.