Associate's and Bachelor's Degrees
10 a.m. on Thursday, December 15, 2022
Ocean Center Arena
101 N. Atlantic Ave
Daytona Beach, FL 32118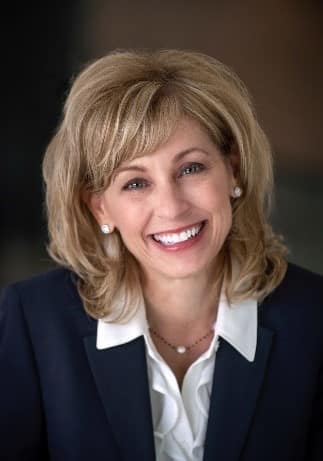 Commencement Speaker
Leanne Caret is executive vice president and senior advisor for The Boeing Company and a member of the company's Executive Council.


Cap, Gown and Memorabilia Information
Academic regalia, or the dress uniform of one of the U.S. Armed Forces, is required.
Cap and Gowns orders can be placed online through Herff Jones online here. Deadline to order regalia online is October 28, 2022. After that date, orders can be made in person at the University Bookstore and will be charged a $10 late fee. In store purchases made after 11/23 are not guaranteed and would be charged the $10 late fee PLUS an additional expedited shipping fee. All caps & gowns ordered will be distributed at the graduation Lift Off event hosted by Alumni Engagement on December 8.
Honor cords based on academic standing of GPA (cum laude, magna cum laude and summa cum laude) are permitted and distributed at the ceremony to graduates at check-in.
Stoles for nationally recognized honor societies that are sanctioned through Student Engagement, Athletics, and ROTC branches are permitted. These are distributed by your organizations advisor prior to the ceremony. Please contact your advisor directly for more information.
Ceremony Information
The Daytona Beach Ocean Center is conveniently located off Highway A1A in Daytona Beach, about 5 miles east of the Embry-Riddle campus. Students will enter the Ocean Center through the East Side (facing A1A) and report to the Atlantic Room by 8 a.m.
8 a.m.: Arrive and check in with college
8:45 a.m.: Receive walking number and survey
9 a.m.: Fill out and turn in career survey
9:05 a.m.: Receive announcement card from line marshal
9:15 a.m.: Receive honors cords as appropriate
9:30 a.m.: Line up begins
9:40 a.m.: Walk to Arena
10 a.m.: Commencement ceremony begins
Note: Graduates should not bring any personal belongings that they cannot keep on their person during the Commencement ceremonies. No secure storage areas are available, and University staff will not take possession of, or responsibility for, personal belongings during the ceremonies.
Guest Information
Family, friends, and guests will enter through the West Concourse (Earl Street, directly across from Daytona Lagoon and the parking garage). Doors will open at 8 a.m. No tickets are required for entry, and seating will be on a first come, first served basis. Saving seats, however, will not be permitted. The Ocean Center has accommodations for those guest needing Disability and Limited Mobility Accommodations.
Ceremony will begin promptly at 10 a.m. with our processional. Anticipated length of ceremony is 2 hours. We ask that you kindly stay in your seat for the duration of the ceremony; be courteous to the graduates and their families and remain seated until the recessional.
To accommodate families and friends of our graduates who are not able to attend the commencement ceremony, the event will be webcast live here. A "watch now" link will posted on the home page the morning of the ceremony.
The possession or use of alcohol, noisemaking devices (air horns), firecrackers, balloons, flags, banners, or illegal substances is strictly prohibited. Cell phones and pagers must be turned to silent.
Due to the stadium seating arrangement at the venue, strollers and baby carriages are not permitted in the event venue. You may check the stroller or baby carriage with an attendant at the North Corridor entrance.
Parking
Parking is available the day of the ceremony for $10 (CASH ONLY) in the designated Ocean Center Parking Lots. Parking outside of these designated lots may result in higher parking rates and are managed by third party businesses.
Note: Parking in Ocean Center parking lots is limited and has run out in the past that parking is first come, first served. Carpooling and early arrival is strongly recommended. Graduates - consider parking time and walk time to the Ocean Center to ensure you are arriving by your designated arrival time. Students are placed in a specific order for line up so prompt arrival is imperative.
Faculty Participation
Arrive at the Ocean Center by 8:30 a.m. Park in the Ocean Center's parking garage or in the south lot off of Auditorium Boulevard. Faculty will gather in Room 102 ABC; signs will be posted. Continental breakfast, tables, chairs, and coat racks will be available in the room. Line up will be at 9:30 a.m., allowing faculty to give a final congratulations to the graduating class. The ceremony will begin promptly at 10 a.m. with the students taking their seats.
Regalia is required for all faculty members participating in the Commencement Ceremonies. To rent or order any products, please contact the University Bookstore. Deadline to order is October 31.
Academic Records and Graduation Status
Office of the Registrar
April Atkinson
Manager of Daytona Beach Campus Events