Ph.D. and Masters Degrees
3 p.m. on December 16
Ocean Center Arena
101 N. Atlantic Ave
Daytona Beach, FL 32118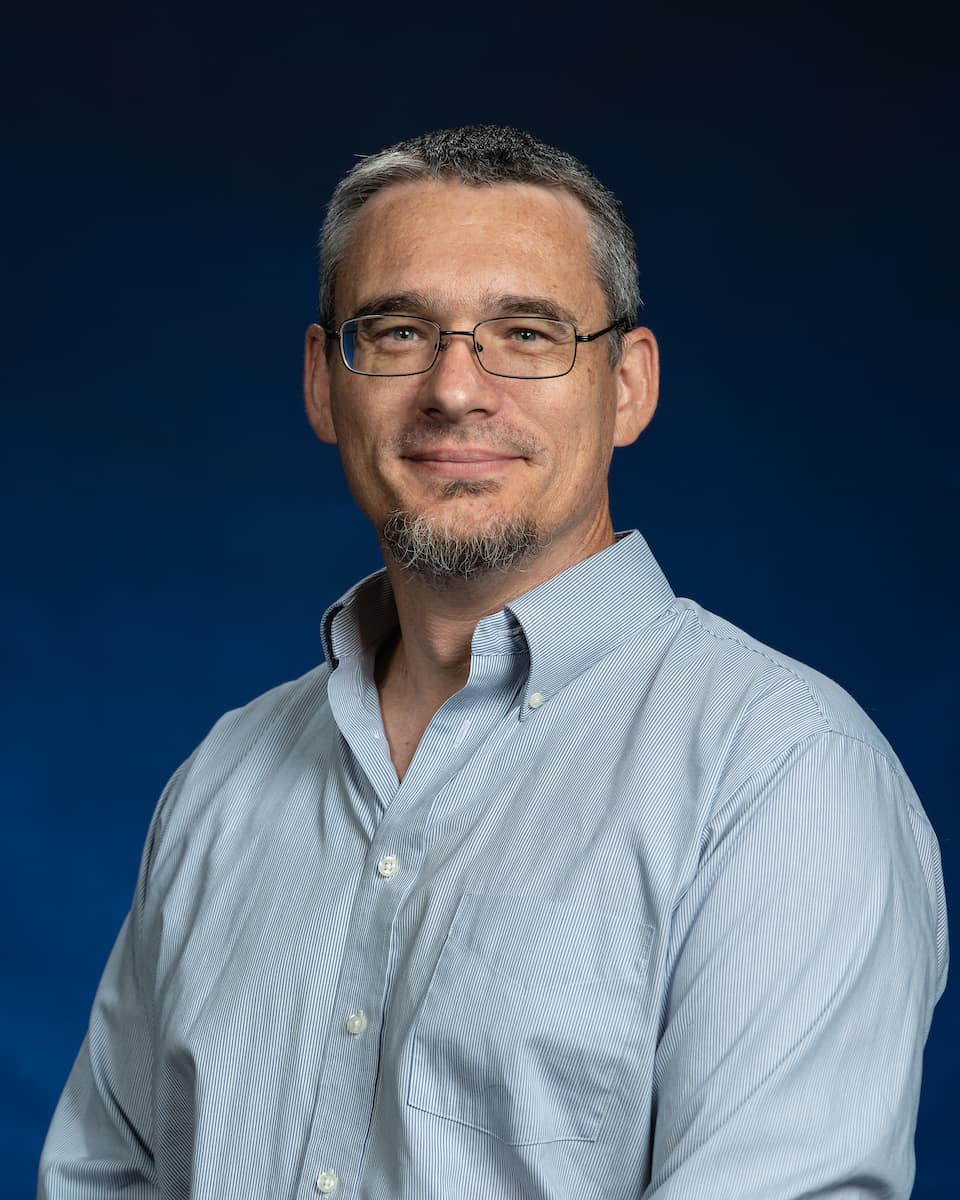 Commencement Speaker
Dr. John M. Hughes is currently Chair of Physical Sciences at the Daytona Beach campus.
Cap, Gown and Memorabilia Information
Cap and Gowns orders can be placed at the University Bookstore. All orders must be place before Thanksgiving break to ensure they will arrive on time. For questions on the order process, contact the store at 386-226-6062.
Caps & gowns will be distributed as follows:
Fall 2021 Graduates - Lift Off event hosted by the Alumni Engagement
Class of 2020/Spring 2021 Graduates (COVID impacted) – available pick up times are below:

November 29-December 14 from 8 a.m.-5 p.m. the University Bookstore
December 15 from 1-5 p.m. at the Ocean Center Ballroom
December 16 from 7:30-8:30 a.m. at the Ocean Center Ballroom
Ceremony Information
Ph.D. Candidates are to arrive to the Ocean Center at 1:45 p.m. Ph.D. candidates and their dissertation chairs will gather with our platform party in 103ABC. Additional details will be sent via email as the event approaches. Due to the limited amount of space, family members and friends will not be permitted access to the meeting room. At 2:45 p.m. you will line up to begin the processional.
Master's Candidates are to arrive dressed in regalia no later than 1:45 p.m. You will check in with your college to receive your announcer card. Lineup will begin promptly at 2:30 p.m.
Ceremony will begin promptly at 3 p.m. with our processional. Anticipated length of ceremony is 2 hours.
1:45 p.m.: Arrive and check in with college
1:55 p.m.: Receive walking number and survey
2 p.m.: Fill out and turn in career survey
2:05 p.m.: Receive announcement card from line marshal
2:15 p.m.: Receive honors medallions as appropriate
2:30 p.m.: Line up begins
2:45 p.m.: Walk to Arena
3 p.m.: Commencement ceremony begins
A limited number of discounted parking passes will be available in advance for $5 from ERNIE Central (located in the Mori Hosseini Student Union). Purchases must be made using a credit card in ERNIE Central. Advanced passes are not required. Please note, the Ocean Center parking attendants will collect parking passes as you enter the garage or lot. There will be no refunds on unused parking passes.
Please note: parking is limited and has run out in the past. Please inform your family members that parking is first come, first served. Carpooling and early arrival is strongly recommended. Consider parking time and walk time to the Ocean Center to ensure you are arriving by your designated arrival time. You will be placed in a specific order for line up so prompt arrival is imperative.
Note: Graduates should not bring any personal belongings that they cannot keep on their person during the Commencement ceremonies. No secure storage areas are available, and University staff will not take possession of, or responsibility for, personal belongings during the ceremonies.
To accommodate families and friends of our graduates who are not able to attend the commencement ceremony, the event will be webcast live. A link will posted here closer to the event date.
Family, friends, and guests will enter through the West Concourse (Earl Street, directly across from Daytona Lagoon and the parking garage). Doors will open at 2 p.m. No tickets are required for entry, and seating will be on a first come, first served basis. Saving seats, however, will not be permitted.
The possession or use of alcohol, noisemaking devices (air horns), firecrackers, balloons, flags, banners, or illegal substances is strictly prohibited. Cell phones and pagers must be turned to silent.
Faculty Participation
Arrive at the Ocean Center by 8:30 a.m. Park in the Ocean Center's parking garage or in the south lot off of Auditorium Boulevard. Faculty will gather in Room 102 ABC; signs will be posted. Continental breakfast, tables, chairs, and coat racks will be available in the room. Line up will be at 9:30 a.m., allowing faculty to give a final congratulations to the graduating class. The ceremony will begin promptly at 10 a.m. with the students taking their seats.
Regalia is required for all faculty members participating in the Commencement Ceremonies. To rent or order any products, please contact the University Bookstore.
Complimentary parking passes for faculty will be available from the Dean's office of your college.
Academic Records and Graduation Status
Office of the Registrar
April Atkinson
Manager of Daytona Beach Campus Events