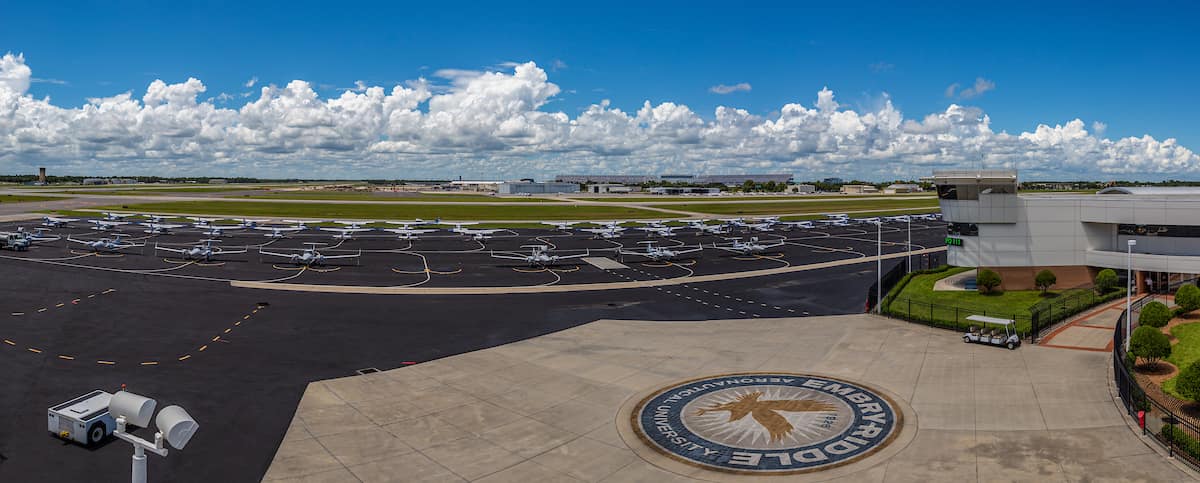 With nearly 400 training flights departing and arriving every day, the ERAU ramp is one of the busiest places on the airport, and all that activity is monitored by full-time flight supervisors who observe activities from the university's Flight Supervisor Tower.
Fleet Overview
Students attending Embry-Riddle Daytona Beach have access to one of the largest and most advanced fleet of training aircraft available. Our fleet consists of:
Students in the Embry-Riddle aviation program begin their private-pilot flight training in the 180-horsepower Cessna 172 Skyhawk. Embry-Riddle has been using the Skyhawk as its primary training aircraft for decades. Every Embry-Riddle Daytona Beach Skyhawk is equipped with the state-of-the-art Garmin G1000 glass cockpit and an Automatic Dependent Surveillance-Broadcast (ADS-B) system. This gives our students and instructors the added safety benefit of real-time traffic alerting to enhance their situational awareness.
Embry-Riddle selected the new DA42-VI because it offered so many advantages over prior-generation designs, including its all-composite construction, state-of-the-art Garmin G1000 glass panels, and Austro manufactured jet fuel driven piston engines. While each new DA42-VI comes equipped with an advanced glass cockpit, the ERAU fleet has been upgraded to include an Automatic Dependent Surveillance-Broadcast (ADS-B) traffic and weather system. This provides our students and instructors with greater situational awareness throughout all phases of flight.
Due to the high levels of activity, strict safety guidelines have been established for all ramp activity, and our flight supervisors are tasked with making sure that everyone follows those rules. After all, safety is at the forefront of everything we do, in and out of the airplane.
Once at the Flight Line, our students can take advantage of all the resources available to them at the new Flight Operations Center. The Flight Ops Center boasts a state-of-the-art dispatch desk, real-time weather monitoring equipment, computer stations for flight planning, private oral rooms, and many other modern aviation conveniences designed to give students everything they need for their preflight preparation.
Once assigned an aircraft, students are able to access the secure Flight Line and then be transported to their airplane via the university's "pilot limo." To save time, the dedicated golf cart picks up and drops off students and instructors as they come and go from their flight activities.
It comes in handy considering that the Flight Line provides aircraft parking for the university's fleet of 62 Cessna Skyhawks and 10 Diamond DA42-VI. There is also extra aircraft parking available for the convenience of those visitors that prefer to fly rather than drive.
Daytona Beach Campus
1 Aerospace Boulevard
Daytona Beach, Florida 32114
Flight Line Webcams
Get real-time video of our students and instructors as they perform their preflight and post-flight duties and taxi to and from our ramp.