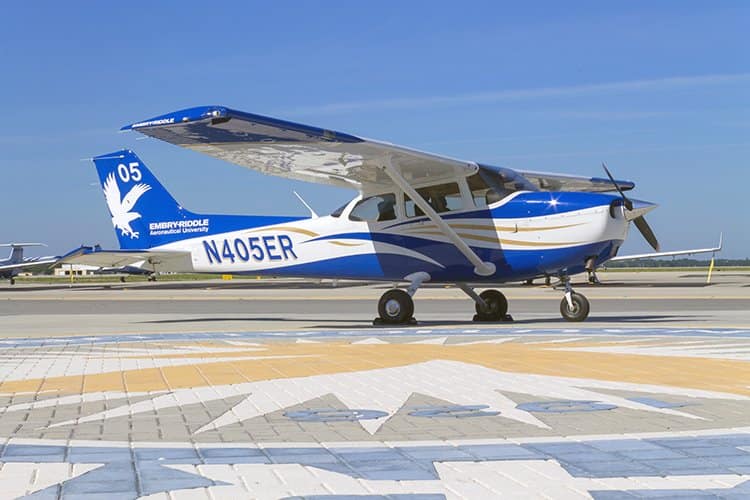 Students in the Embry-Riddle aviation program begin their private pilot flight training in the 180-horsepower Cessna 172 Skyhawk. During that time, the 172 has proven to be one of the most versatile, reliable, and safest aircraft available. Perhaps that explains why more Skyhawks have been produced than any other general aviation airplane.
Every Skyhawk at Embry-Riddle Daytona Beach is equipped with the state-of-the-art Garmin G1000 glass cockpit and an Automatic Dependent Surveillance-Broadcast (ADS-B) system. This gives our students and instructors the added safety benefit of real-time weather and traffic alerting to enhance their situational awareness.
The best flight training begins with the best training aircraft
While the Garmin G1000 and ADS-B avionics give our students the best foundation for their flying careers, the real value of the ERAU fleet of Skyhawk training aircraft is found in the 172's inherent stability and structural integrity.
Let's face it: Flight training is rough on training aircraft. Luckily, from full-power go-arounds to bounced landings, the venerable Skyhawks have proven they can take just about anything our students can deliver.
Our fleet of Skyhawks logs tens of thousands of flight hours every year. And day after day, they're ready to provide our students and instructors with the best flight training experience available.
The 172 Skyhawk and Embry-Riddle: After so many years and hundreds of thousands of flight hours, we couldn't think of a more reliable and safer flight-training aircraft.
Specifications
Speeds
Maximum Speed at Sea Level
124 knots
Cruise, 75 Percent Power at 8,000 Feet
123 knots
Stall Speed, Flaps Up
48 knots
Stall Speed, Flaps Down
40 knots
Performance
Range, 75 Percent Power at 8,000 Feet
515 nautical miles
Endurance (Time)
4.2 hours
Rate of Climb at Sea Level
730 feet per minute
Service Ceiling
13,500 feet
Weights & Loads
Maximum Ramp Weight
2,558 pounds
Maximum Takeoff or Landing Weight
2,550 pounds
Baggage Allowance
120 pounds
Fuel
Fuel Capacity
56 gallons
Usable Fuel
52 gallons
Engine & Propeller
Engine
Textron
Propeller
Fixed Pitch, Diameter 75 Inches
Oil Capacity
8 quarts
Daytona Beach Campus
1 Aerospace Boulevard
Daytona Beach, Florida 32114