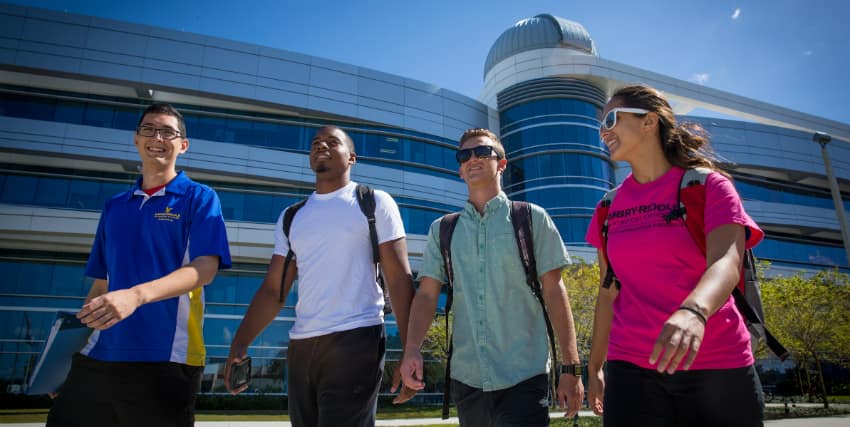 Congratulations on taking the first step towards your future success! We're here to make the admissions process as easy as possible. It's as easy as 1, 2, 3!
Submit your application for admission, along with the $50 application fee.
Reference the requirements by type of applicant below, and follow the link to determine what documents we will require in order to make an admissions decision.
Set up your ERNIE account to monitor your status, establish your ERAU email account and learn about next steps towards enrollment.
All applicants must submit the following:
Application for admission and $50 application fee
Official transcripts (see requirements by type of applicant for more details)
Unofficial documents (resume, statement of objectives, letters of recommendation) may be submitted through our Secure Upload Link.
Note: Transcripts and test scores uploaded through this link will be considered unofficial.
Additional requirements by type of applicant:
Where to send documentation:
Official documents, including college and high school transcripts, and standardized test scores, must be submitted using an electronic delivery service or by mail to the address below.
ERAU Daytona Beach Admissions Office
1 Aerospace Boulevard
Daytona Beach, FL 32114
Non-official documents, including letters of recommendation, resume, personal statement or essay may be sent to us by email at daytonabeach@erau.edu or by mail to the address above.
Note: While not required for admissions purposes, students who have AP, IB, dual enrollment or other coursework that may be eligible for advanced standing or transfer credit must request original transcripts from the awarding institution, or test results from the testing agency, be sent to ERAU. Notation on high school transcript is not sufficient to award credit.
Daytona Beach Campus
1 Aerospace Boulevard
Daytona Beach, Florida 32114