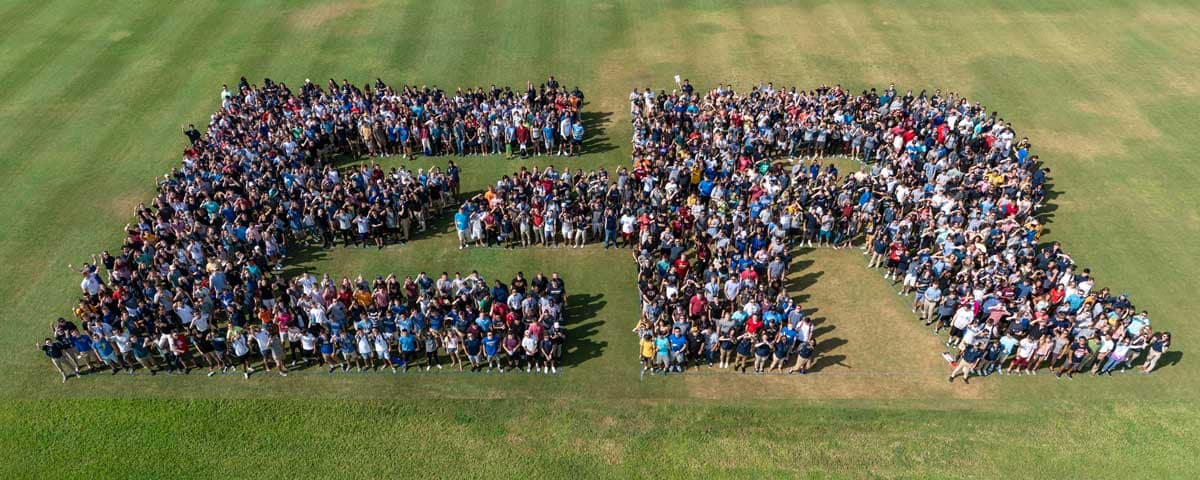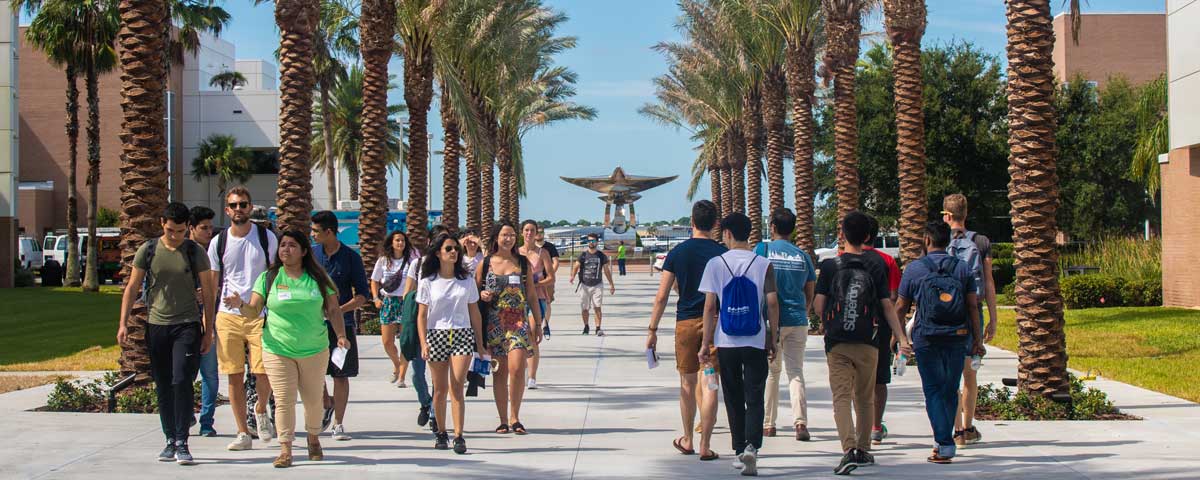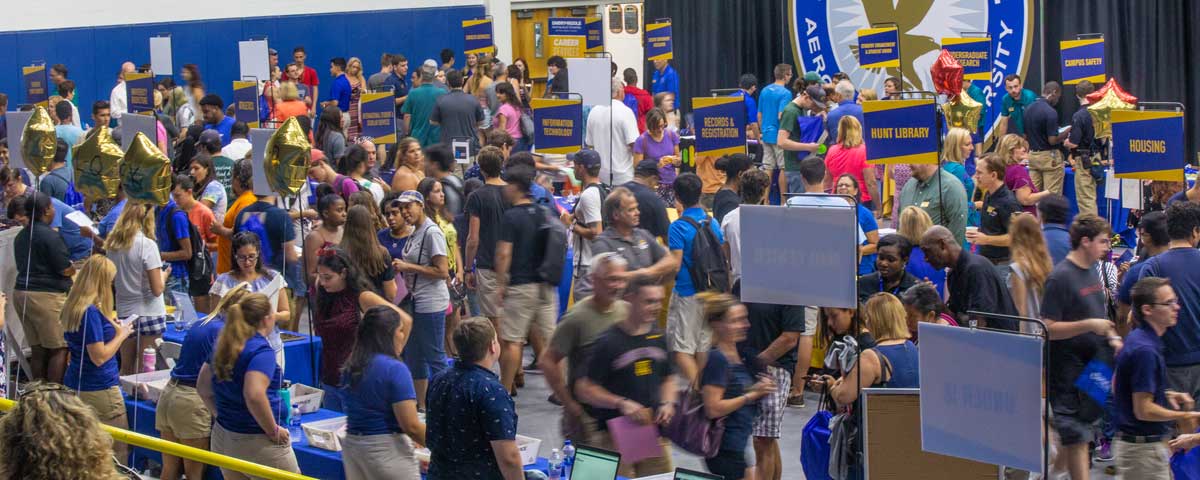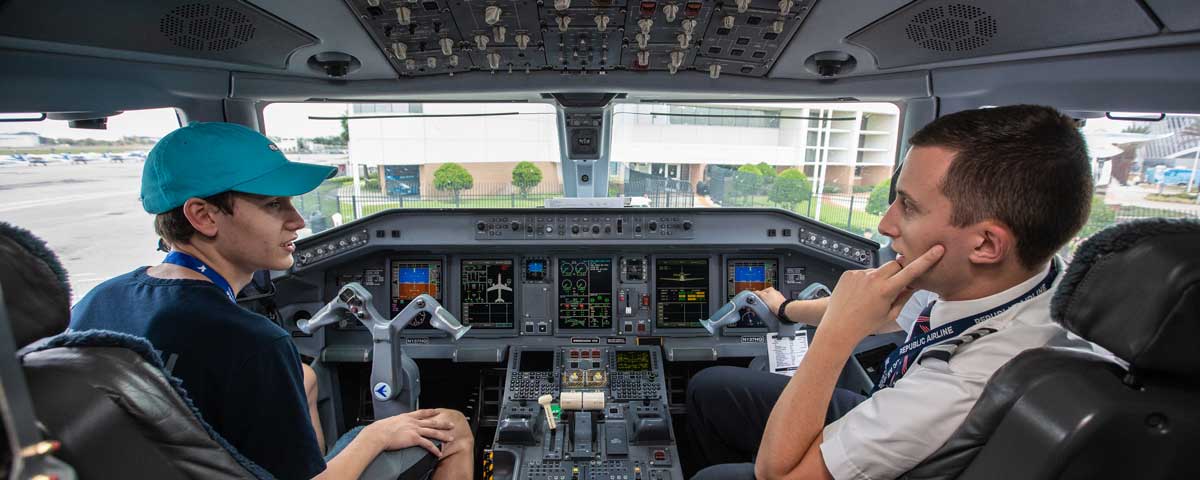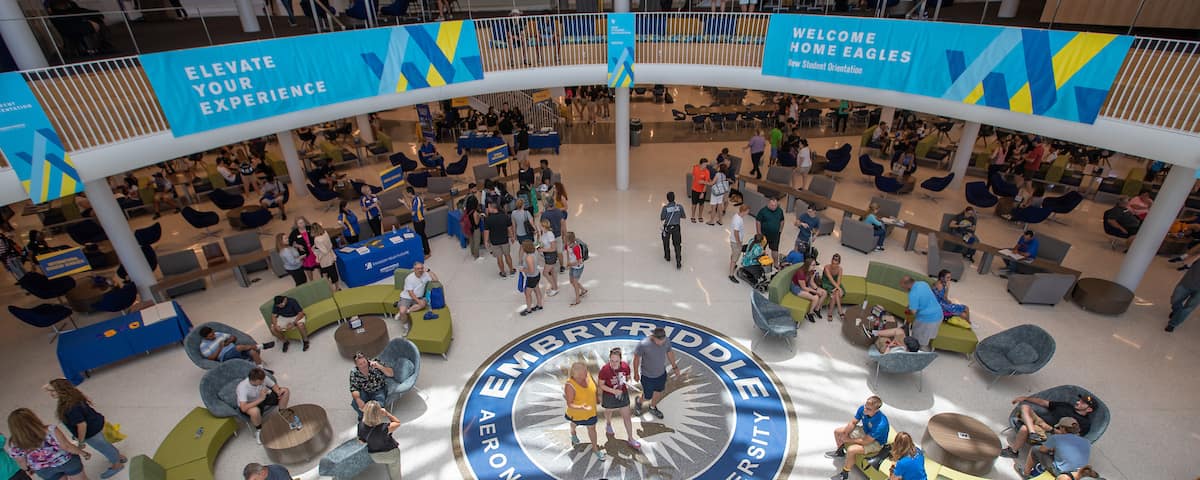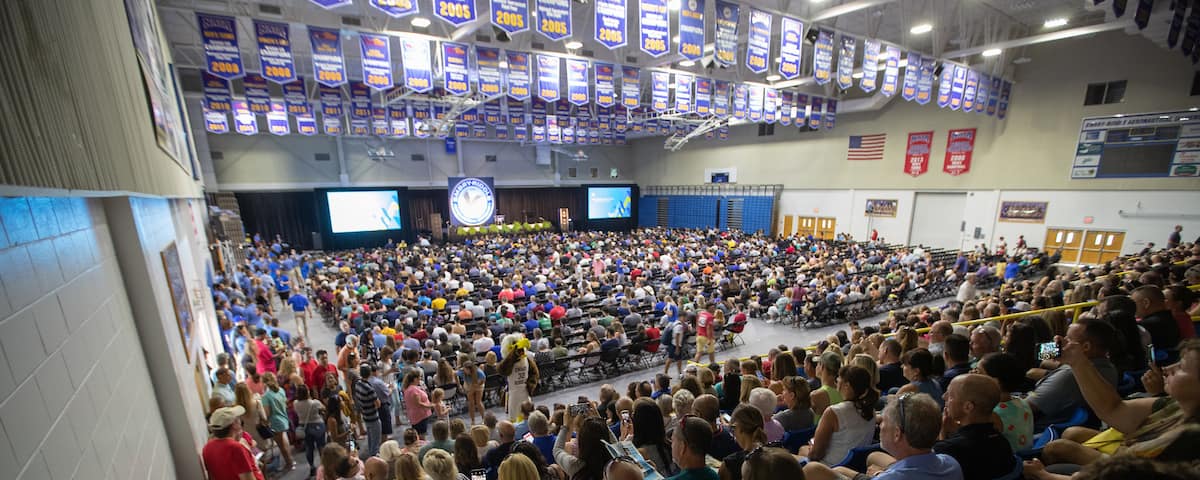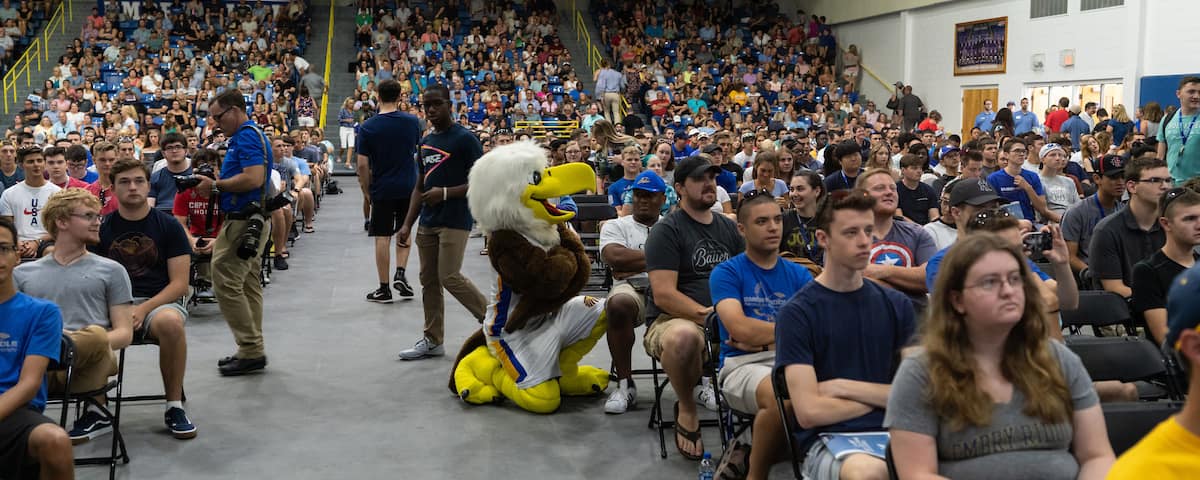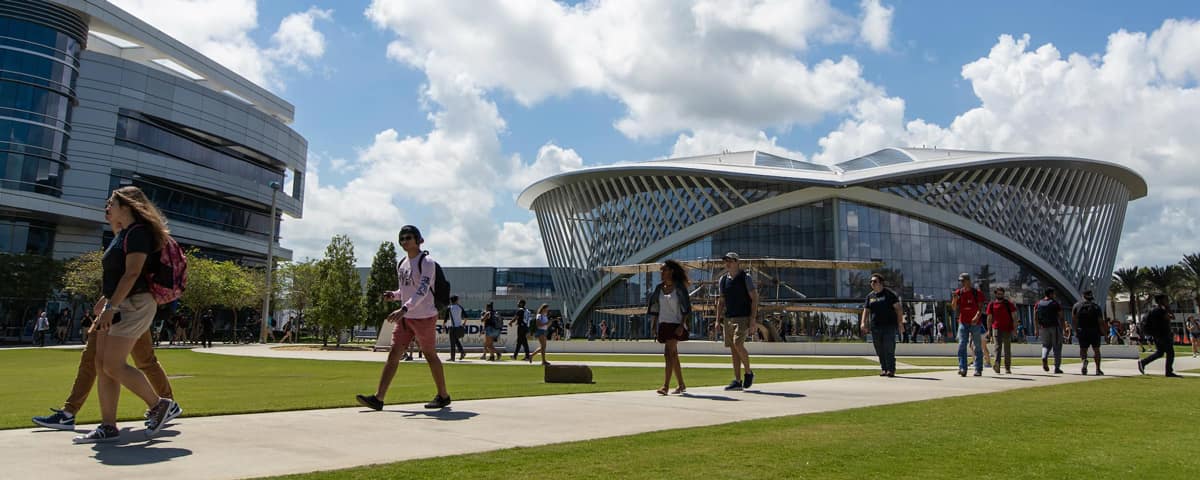 Welcome New Students & Families!
We want you to have a smooth and successful transition to Embry-Riddle! New Student Orientation is meant to provide you with a chance to connect with other students and to learn about opportunities and services both in and out of the classroom, so you can make a strong start on your journey here at the Daytona campus.
New Student Orientation
New Student Orientation is a required program for all new students (freshman, transfer, and graduate students). It is coordinated by the Office of New Student Orientation which is housed in the Student Engagement and Student Union department. The programming administered during New Student Orientation is produced by various campus partners such as the academic colleges and departments, Admissions, Parent & Family Programs, and all other divisions within Student Affairs.
The program begins with ERAU Check-in, where students officially check in to the university, receive their residence hall room keys, and get information about all that's happening during Orientation.
During this time, students will learn about the community and the resources available, finalize their class schedule, meet with their academic advisor and get a chance to meet both new and continuing students at Embry-Riddle.
We run New Student Orientation at the start of each semester, so whenever you begin at Embry-Riddle, we will be glad to welcome you and help you start off with what you need. Dates and other information on these sessions are below. We look forward to meeting you here in Daytona soon!
Make sure you're ready for arrival! Review the Admitted Student Checklist here for important tasks to complete.
Make sure to order your EAGLECard before you arrive on campus! We will have it waiting for you when you arrive. That will speed up your process through ERAU Check-in, and if you are a Flight student, it will speed up the on-boarding process for you as well. Order your EAGLECard through ERNIE.
At any time, you are welcome to find out more information and connect with the O-Team by following us on social media!
2020 New Student Orientation
For students starting in the Summer B term, New Student Orientation will be held June 28-29, 2020. To support a safe environment, we have created several new approaches. The revised full schedule will be posted by June 18.
Check-in/Move-in: This will take place on Sunday June 28 from 9 am – 12 pm. Students must sign up in advance for a move-in time, so please check your email for an invitation from Housing & Residence Life to sign up for your time.

ERAU Check-in/Move-in will be a drive-through process. Students and families will be able to stay in their cars as they proceed through getting keys and Orientation materials, along with the daily temperature check, and then head directly to the residence halls to unload their belongings. Students will be limited to two guests to help them within the residence hall.

Welcome and other events: On Monday June 29, there will be a mix of in-person and virtual opportunities to learn about what the university has to offer. All in-person events will also be livestreamed, using the Zoom platform. Students can choose the mode of interaction that works best for them.
New Student Check in August 14-18 from 9 a.m.-7 p.m.*. Check-in located at ICI Center (more details to follow)
Returning Student Check in August 19-23 from 9 a.m.-7 p.m.*. Check-in located at ICI Center (more details to follow)
*Students must have a confirmed move-in date and time (Eventbrite ticket confirmation required).
*Students must have a confirmed move-in date and time (Eventbrite ticket confirmation required). Check-in times must be adhered to, if you arrive early to campus, please wait until your time for check-in. If you arrive late, please check at your appropriate area for further instructions. 6 p.m.-7 p.m. is the last available check in time each day.
Please DO NOT make travel arrangements until you are able to sign up for your time on Eventbrite. Students will be sent an email with further updates regarding the sign up times.
If you require an after-hours check in, you must email your arrival date, time and reason for the late arrival to Daytona.Housing@erau.edu. You will be provided an email confirmation once your after-hours arrival is approved.
Parent & Family Orientation
Fall 2020: Parent & Family programs will be offered on your student's Move-in day. We will present a Welcome program at 6 p.m. each day in the Union Event Center. Physical distancing parameters will be in place.

We will also livestream the event using the Zoom platform, so you can choose the mode of interaction that works best for you. In addition, we have created a set of activities for you and your student to do at any time during your move-in day, to help you create some memories of this special day!

Check back soon for detailed the schedule for Fall 2020 New Student Orientation.
Additional Information about New Student Orientation
The Orientation Team (O-Team) is a group of student leaders who volunteer each year to welcome new students to campus and help them successfully transition to college.
They are ambassadors for the campus community, and they coordinate and staff all Orientation activities.
O-Team members are available to answer questions from students and families, and they lead small Orientation group meetings that enable new students to meet each other and to learn about campus resources and student life at the Daytona campus.