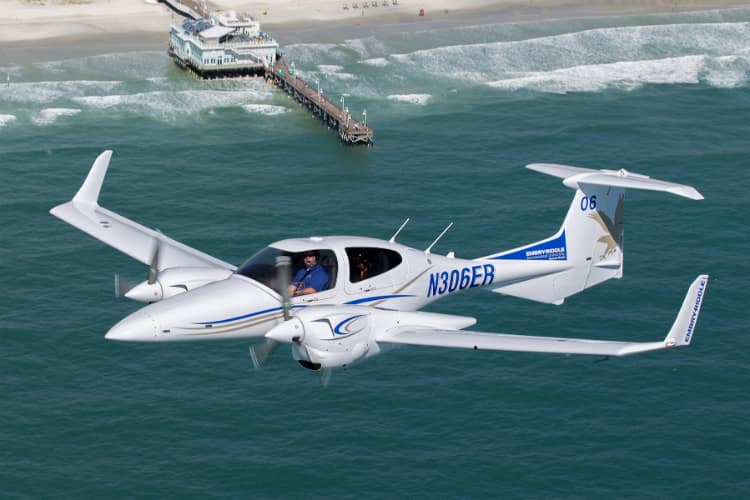 The new-generation Diamond DA42-VI is the aircraft of choice for all of Embry-Riddle Daytona Beach's multi-engine flight training.
The DA42-VI combines Garmin G1000 glass-panel avionics with advanced aerodynamics and aircraft construction to create the ideal multi-engine training aircraft. In developing the DA42-VI, Diamond Aircraft has created one of the most technically advanced light-twin aircraft flying today.
Embry-Riddle selected the new DA42-VI because it offered so many advantages over prior-generation designs, including its all-composite construction, state-of-the-art Garmin glass panels and Austro-manufactured, jet fuel-driven piston engines.
Diamond Aircraft has raised the bar for multi-engine training aircraft, and the DA42-VI has proven to be exactly the aircraft Embry-Riddle was looking for.
A new-generation, light-twin training aircraft
While each new DA42-VI comes equipped with an advanced glass cockpit, the ERAU fleet has been upgraded to include an Automatic Dependent Surveillance-Broadcast (ADS-B) traffic and weather system. This provides our students and instructors with greater situational awareness throughout all phases of flight.
The DA42-VI fleet also has an enhanced landing-gear warning system that automatically alerts the pilot any time the aircraft is in close proximity to the ground with the landing gear in the retracted position. This greatly reduces the possibility of gear-up landings.
Currently, Embry-Riddle Daytona Beach operates a fleet of 11 DA42-VI multi-engine training aircraft. We believe these aircraft provide our advanced flight students with the perfect balance of safety, reliability and performance. And the fleet provides our students with the best overall foundation for their professional flying careers.
Specifications
Speeds
Maximum Speed
188 KIAS
Cruise, 60 Percent Power (economy)
152 KIAS
Performance
Cruise Range
1273 nautical miles
Rate of Climb at Sea Level
1337 feet per minute
Service Ceiling
18,000 feet
Takeoff Distance with 50-Foot Obstacle
2,546 feet
Landing Distance with 50-Foot Obstacle
2,034 feet
Weights & Loads
Maximum Takeoff Weight
4,407 pounds
Useful Load
1,298 pounds
Fuel
Usable Fuel
76.4 gallons
Engine & Propeller
Engines
2 x Austro Engine AE3t00 Jet Fuel Piston Engines
Propellers
2 x MT 3-blade constant speed propeller
Maximum Horsepower
170 horsepower
Daytona Beach Campus
1 Aerospace Boulevard
Daytona Beach, Florida 32114