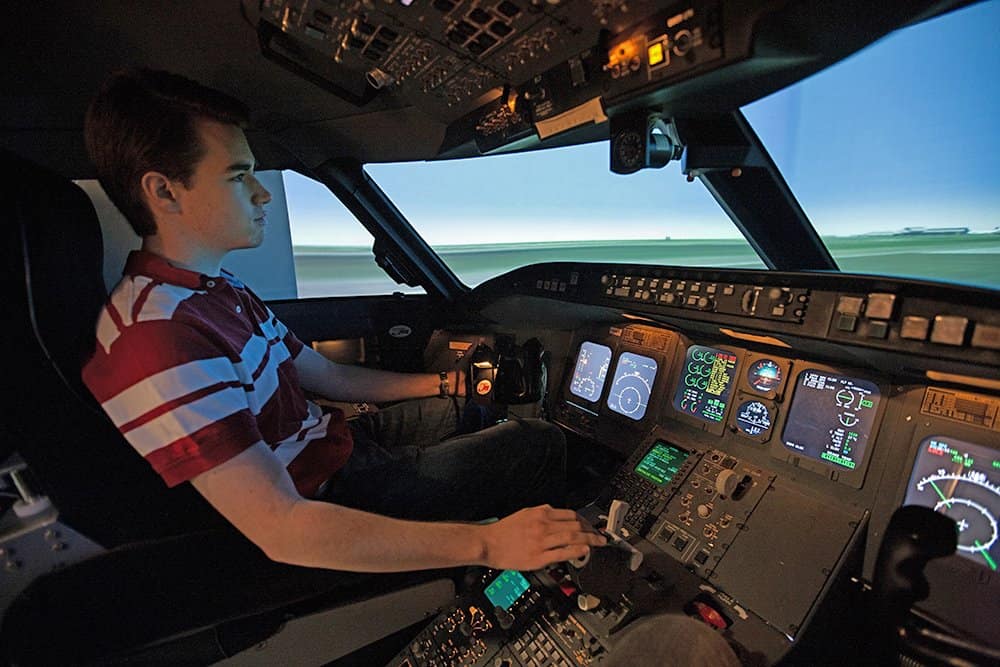 Crew coordination and Crew Resource Management (CRM) are becoming increasingly important skills for regional airline First Officer candidates. Students in the Airline Pilot Specialty track of our Aeronautical Science degree program can sharpen these skills with the aid of our Frasca Level 6 CRJ-200 Flight Training Device (FTD).
Instruction conducted in the CRJ-200 FTD concentrates on airline crew operations with an emphasis on the transition of a professionally qualified commercial pilot into a highly skilled member of an air carrier flight management team.
The CRJ-200 FTD is an exact replica of the airplane's cockpit and serves as a perfect transitional training device for students preparing to move into our more sophisticated CRJ-200 Full Flight Simulator (FFS).
By becoming familiar with the airplane in the lower-priced CRJ FTD, our students are better prepared and save time and money when they begin their advanced training in the CRJ-200 FFS.
To recreate the real-world environment as closely as possible, our CRJ-200 FTD features Frasca's 180-degree FVS-200-TX Image Generation System. This display system provides our professional pilot candidates with realistic, near-3D out-the-window visuals of a variety of airports and their surrounding environment. This level of realism allows students to experience regional jet operations at a variety of airports and weather conditions without ever leaving Daytona Beach.
Features of Embry-Riddle's CRJ-200 Regional Jet FTD
Electronic Control Loading (ECL)
Enhanced Ground Proximity Warning System (EGPWS) simulation
Electronic Flight Instrument System (EFIS) and Engine-Indicating and Crew-Alerting System (EICAS) simulation
Flight Management System (FMS) simulation
Full CRJ-200 cockpit system simulation
Digital Engine Sound Precise cockpit representation
Daytona Beach Campus
1 Aerospace Boulevard
Daytona Beach, Florida 32114