There are no tickets required for Commencement.
The Daytona Beach Ocean Center is conveniently located off Highway A1A in Daytona Beach, about 5 miles east of the Embry-Riddle campus.
Parking
Ocean Center Parking Map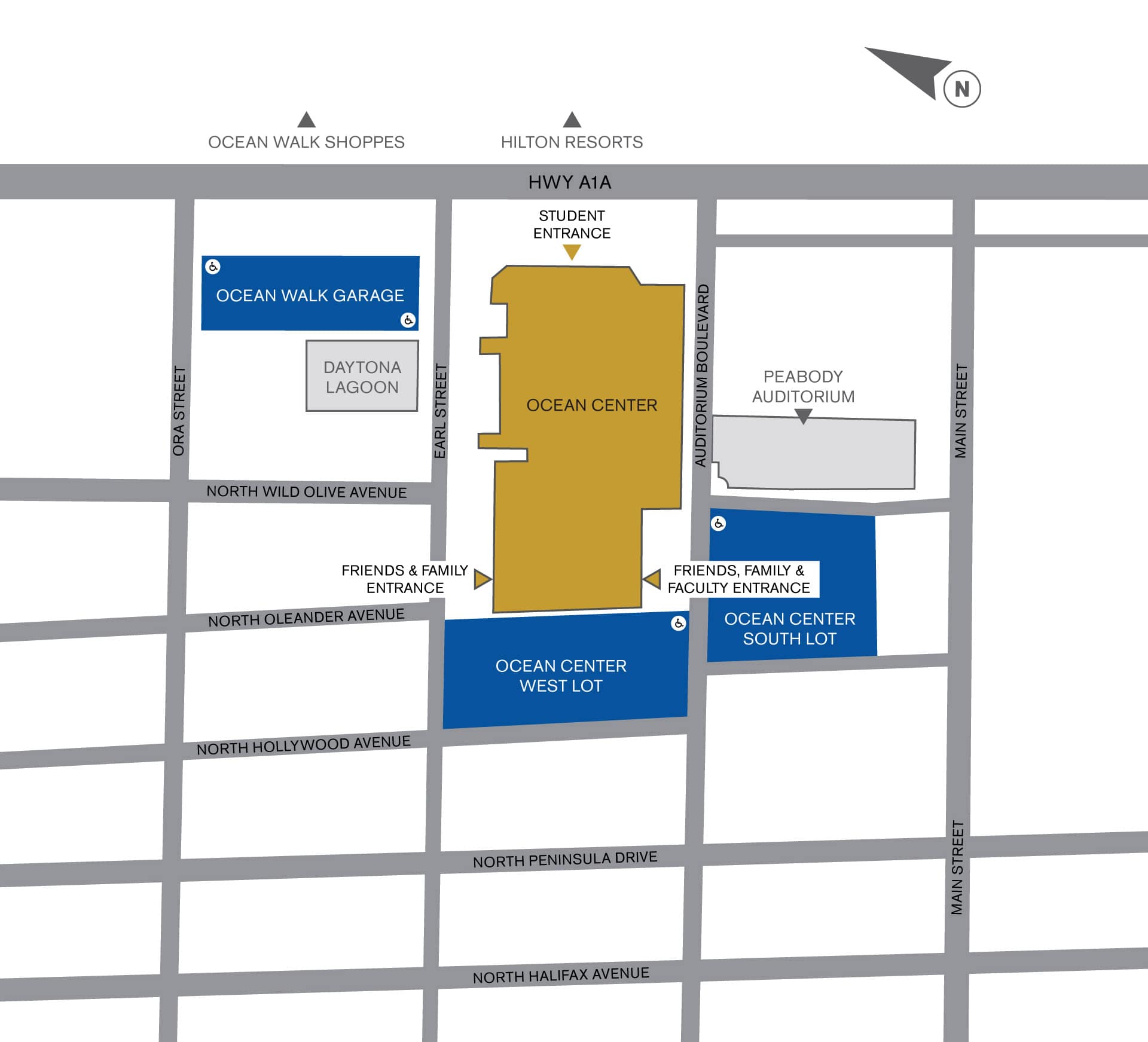 Parking is available the day of the ceremony at the Ocean Center parking garage and surrounding parking lots for $10 (CASH ONLY). Parking for Commencement is available in the following locations:
In the Ocean Center West Lot, west of the Ocean Center, near Auditorium Boulevard and North Hollywood Avenue. Handicap parking spaces are available near the southeast side of the lot.
In the Ocean Center South Lot, south of the Ocean Center and west of the Peabody Auditorium. Handicap parking spaces are available near the northeast side of the lot.
In the Ocean Walk Garage, north of the Ocean Center, across Highway A1A from the Ocean Walk Shoppes and next to Daytona Lagoon. 31 handicap parking spaces are are spread between five floors and are near the elevators on the northeast and southwest corners of the garage.
The Student Entrance is on the east side of the Ocean Center across Highway A1A from the Hilton Resorts. There are two Family & Friends Entrances on the northwest and southwest sides of the Ocean Center.
Please note - Parking is limited and has run out in the past. Please inform your family members that parking is first come, first served. Carpooling and early arrival is strongly recommended. Consider parking time and walk time to the Ocean Center to ensure you are arriving by 8 a.m.. You will be placed in a specific order for line up so prompt arrival is imperative.

Disability and Limited Mobility Accommodations
A special reserved section will be made available to guests with disabilities. Reserved seat tickets are not required but seating is limited to the person needing the accommodations plus 3 companions. Guests needing accommodations are encouraged to arrive an hour early as the venue is large, and our guests will have to walk to the special reserved section. Due to safety regulations, only three people may accompany the guest with a disability in the accessible seating area.
A variety of services provided by the Ocean Center are available for guests with disabilities, including sound enhancement devices, designated parking places, and easy access to key areas of the complex.
Some of the Ocean Center's accessible features include:
Accessible elevators on the south side of the lobby
An escalator is on the north-south concourse
The facility is accessible on the north and south sides of all lobby areas
Entrances are on the facility's east side (student entrance only), south concourse lobby area, and the north concourse lobby area.
Academic Records and Graduation Status
Office of the Registrar
Daytona Beach Campus Events