Safety is our top priority and the primary concern at Embry-Riddle. Our non-punitive, proactive safety culture is embraced at all levels, beginning with the University President.
Watch Dr. P. Barry Butler's safety message below: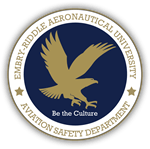 The Aviation Safety Department is responsible for administering Embry-Riddle's aviation safety program. The department takes a proactive approach to safety by emphasizing accident prevention, hazard identification, safety data collection and dissemination, comprehensive emergency response procedures, and an active safety education program. To maintain accountability, the Aviation Safety Department is completely independent from the Flight Department, reporting directly to the Dean of the College of Aviation (COA).

Embry-Riddle is also the first aeronautical university to have achieved Stage III International Standard for Business Aircraft Operations (IS-BAO) registration in 2019. Awarded by the International Aviation Business Council of Montreal (IBAC), Canada, IS-BAO certification means that Embry-Riddle has yet another layer of accountability for its flight operations – above and beyond U.S Federal Aviation Administration (FAA) requirements.