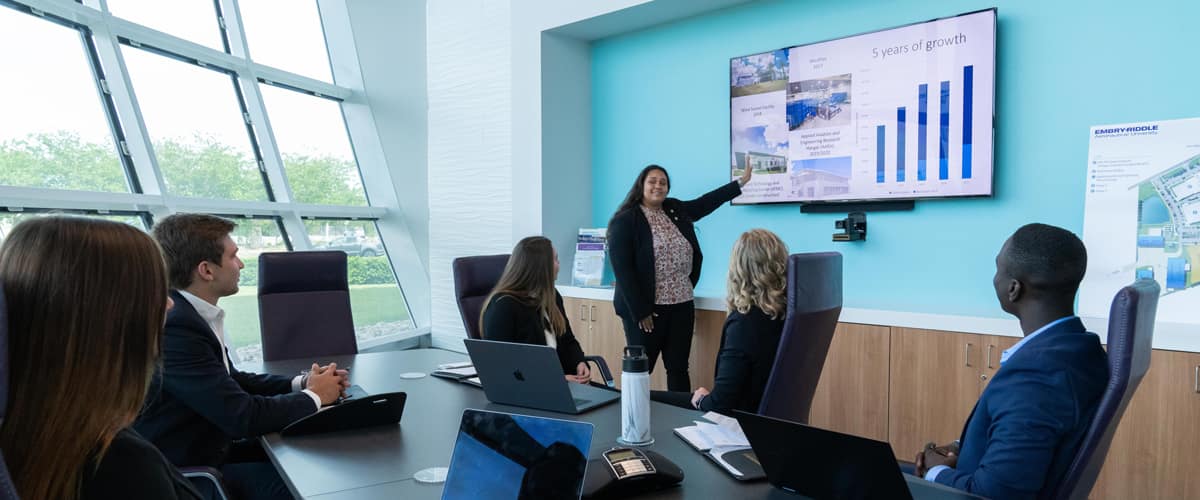 The Management major in the David B. O'Maley College of Business is an increasingly relevant concentration whether you are in business or government, profit or non-profit. There is heavy demand for management professionals in the workplace across a broad and diverse range of fields, requiring a background and knowledge of sound management skills. The curriculum reflects the necessary knowledge to be competitive and successful in the modern workplace.
Management majors examine topics involving managerial economics, strategic management, human resource management, and management of a multicultural workforce as part of their coursework. In addition to the foundational courses for the business degree, students can personalize their studies through electives and can even substitute an elective class with an accredited internship with companies such as Delta, Boeing, Northrop Grumman, or Lockheed Martin.
Strong managers are essential to business success and the Management major provides students with knowledge and skills that are necessary for future leaders. Previous graduates have pursued careers as project managers, operations managers, or human resources specialists. Opportunities are available in all fields, including aviation, aerospace, technology, government contracting, and logistics. Our graduates command solid salaries (recent alumni report average salaries of $73,500) and experience an excellent education return-on-investment year after year.
Daytona Beach Campus
1 Aerospace Boulevard
Daytona Beach, Florida 32114