Business Leadership Council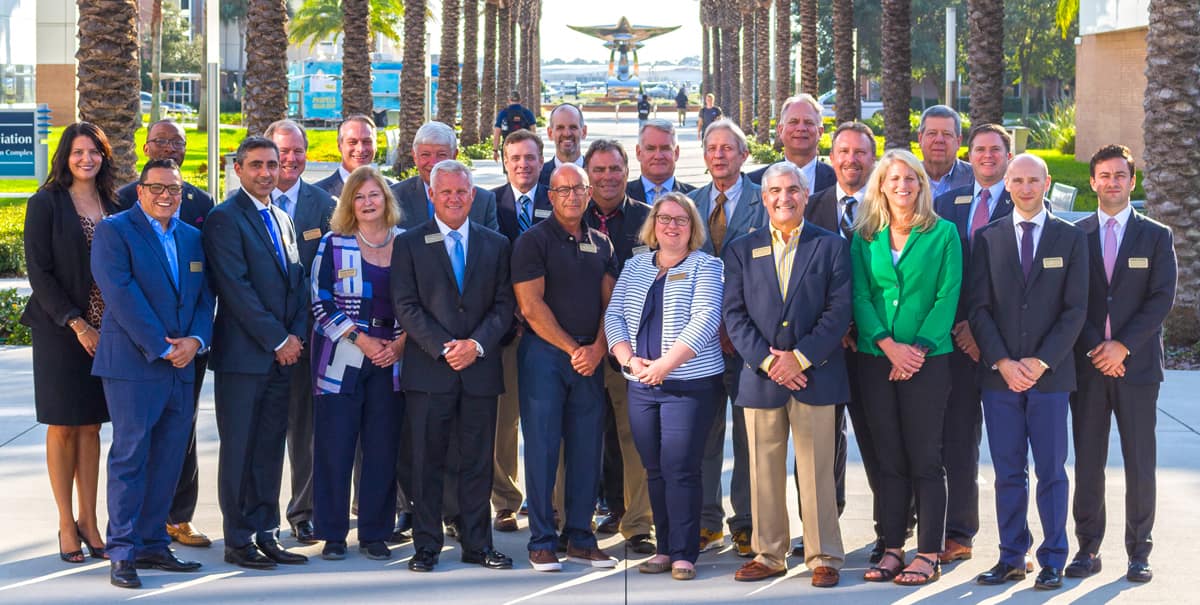 The Business Leadership Council for the David B. O'Maley College of Business includes executives of leading aviation and aerospace industries as well as governmental bodies. Council members regularly visit the campus and share their experience and advice with faculty and students.
Chairman: Mr. C. Richard Hale
Business Leadership Council Members
Jorge Abando
Vice President Marketing Sales & Marketing
Mitsubishi Aircraft Corporation
Steve C. Boecker
Sales Executive
Delta TechOps/MRO Services
James Buckalew
CTO & Vice President
Oliver Wyman CAVOK
Chris Cannon, CFA
Chief Investment Officer
FirsTrust
Manolo Centeno
Senior Principal/Operations
Domain Specialist
Sabre
Damon J. D'Agostino
Aviation Finance
Ravhi Dharnidharka
Senior Vice President Cirrus Services Group
Cirrus Aircraft Corporation
Oscar S. Garcia
Chairman
InterFlight Global Corp.
Lee Garvin
Director Risk Management
JetBlue Airways Corporation
Larry Gouldthorpe
Retired
Orlando Sanford International Airport
C. Richard Hale
Chairman & CEO
Winner Aviation Corporation
Youngstown-Warren Regional Airport
Michael Henderlong
Head of Capital Markets
Babson Capital Management, LLC
Benno D. Hoffmann
Attorney at Law
Kelly Ison
Chairman, Allied Pilots Association
East Merger Committee American Airlines
David Kelly
VP Marketing & Strategy
HAECO Americas
Douglas B. Kelly
Senior Vice President
Avitas, Inc.
Krislen Keri
Experienced Aviation Professional
Ferra Distribution Ltd.
Rick Larsen
VP Marketing
EAA
Herve Lavenant
Managing Director, Network
Analysis and United Express Finance
United Airlines
Mark Leomporra
Aviation Director/Chief Pilot
THL Capital
Joubine Motaharian
Managing Director of Customer Experience
American Airlines
Sarah Newcomer
Finance and People Development Manager and Finance Master's Program Manager
Boeing Finance People Development
Christopher A. O'Gwen
Head of Marine & Aviation
Transre
Michael D. O'Keeffe
Senior Vice President
Banyan Air Service
Edmund Otubuah
Managing Director Of Products – Operations Solutions
Global Eagle Entertainment
Sam Patel
Airlines
Julio Pereira
Assistant Director
International Air Transport Association (IATA)
Brian J. Rynott
Aviation Finance
Roger Smeltzer
Senior Manager, Field Quality
Textron Aviation
Keri Lyn Spencer (Lyons)
SMS Program Manager
FAA Airports
Scott Wargo
Site Director, Landing Gear Services
UTC Aerospace Systems
Joanne W. Young
Managing Partner
Kirstein & Young, PLLC