Blue Origin's Suborbital Research: MESSI/McXIMUS
PI Pedro LLanos
The following studies were conducted with Co-PIs Dr. Sathya Gangadharan (ERAU) and Kristina Andrijauskaite (University of Texas Health Science Center in San Antonio [UTHSCSA]).
MESSI Summary: This project was ERAU's second suborbital payload aboard Blue Origin's New Shepard launched May 2, 2019. We analyzed the effects of suborbital flight stressors and various light conditions (red, white, no light) on the Arthrospira platensis, commonly known as Spirulina, aboard Blue Origin's New Shepard launch vehicle. Commercially available cyanobacterium species were cultivated and closely monitored in mother colonies several months before the flight. The aim was to estimate biomass production and growth as a potential dietary alternative for prospective human spaceflight's life support system.
McXIMUS Summary: Zebrafish larvae were exposed to the same physiological stressors they would encounter during suborbital space flight: alterations in light, thermal, and centrifugation conditions, and their behavioral responses were analyzed using the DanioVision (Noldus) behavioral tracking system. Our results showed that zebrafish were most active when kept in a dark environment as measured by swim distance. Also, thermal alterations revealed that zebrafish larvae adapted well to the different temperatures ranging from 25°C to 32°C with the highest levels of locomotor activity observed at 32°C. Finally, the centrifugation tests demonstrated that although zebrafish were exhausted initially, their recovery process was short, lasting for approximately five minutes.
Spirulina Research: The Microgravity Experiment for Spirulina as Superfood In-Vitro (MESSI) was funded by internal funds from ERAU and UTHSCA and ERAU's 2018-2019 Ignite Research Grant. Spirulina samples were flown in a NanoLab with adjacent avionics supporting the light conditions and sensors to monitor the temperature, relative humidity, and accelerations. The various flight parameters measured in the NanoLab were validated with the flight data gathered by Nanoracks. Preliminary results of the genes affected by the temperature and light alterations are presented. Our data indicate that the spirulina samples aboard the rocket had elevated expression of most genes when compared to ground controls, especially genes related to magnesium (mgtE) and nitrate-nitrite (nrtP) transport. Furthermore, we saw the most significant up-regulation (p < 0.01-0.001) of genes from the blue-green spirulina microalgae exposed to the red light. Finally, we used laser-scanning confocal microscopy to provide high-resolution imaging visualizations of the spirulina under different conditions (ground, flight, and light conditions). Results indicate that flight samples exposed to red light had the most profound effect on gene expression and showed an enhanced behavior suggesting that photosynthetic organisms are influenced by light energy. Although it is well-known that spirulina needs light and warmth to optimally grow, our findings indicate that spirulina may be able to survive and grow with no light and at lower temperatures than optimally cultivated conditions, which may reduce hardware and resources dependency for prospective long-duration human spaceflight.
Zebrafish Research: Microgravity characterization eXperiment In Microgravity Universal Spacelab (McXIMUS). It has been proved that the presence of humans in space requires meticulous mission design and a critical understanding of physiological parameters. Space is a hostile environment that has caused numerous health hazards in astronauts, including alterations in the vascularization system and high rates of muscle atrophy. Therefore, understanding the molecular pathways mediating space-induced alterations on human physiology is a necessity in making future missions a success. The goal of this study was to use zebrafish (Danio rerio) embryos as a unique model to study molecular mechanisms of simulated and real microgravity effects on vascularization system and stress response. To simulate microgravity, we exposed zebrafish embryos to a two-dimensional clinorotation device starting 1-day postembryonic fertilization (dpf) and lasting for a maximum of four days. Changes in multiple gene expression were measured by qRT-PCR. Thus, we used the KDRL- BSY zebrafish strain with the blue fluorescently labeled vascular system allowing to image vascularization development using confocal microscopy. Our preliminary results indicate that only a small proportion of genes are affected by clinorotation. Our next goal was to confirm our findings by exposing zebrafish embryos (days 2 and 3 dpf) to microgravity during the suborbital flight aboard Blue Origin's New Sheppard vehicle in the spring of 2019. Our project entitled Muscular characterization in Microgravity Universal Spacelab (McXIMUS) is a joint research collaboration between the Embry- Riddle Aeronautical University (ERAU) and the University of Texas Health Science Center in San Antonio (UTHSCSA). To ensure a safe environment for zebrafish embryos during the suborbital flight, we designed a NanoLab to guarantee stable thermal conditions inside the payload. Our team has established proper procedures and validation checks to maximize the outcome of this novel scientific experiment. Our data indicate that in contrast to clinorotation, zebrafish embryos exposed to suborbital flight had the up-regulated expression of multiple gene families, with the most profound effect observed in vascular endothelial growth factors and heat shock proteins. To the best of our knowledge, this is the first time when Danio rerio was flown on the suborbital flight mission to assess microgravity-induced alterations on the vascularization system and stress. Here, we present only the preliminary results of our ongoing gene expression analysis, as we are further elucidating the possible mechanisms of action. Findings from this experiment give insights into molecular pathways mediating vascular system and stress response and will assist in mapping out the strategies aimed to minimize the antagonizing effect of space travel in humans.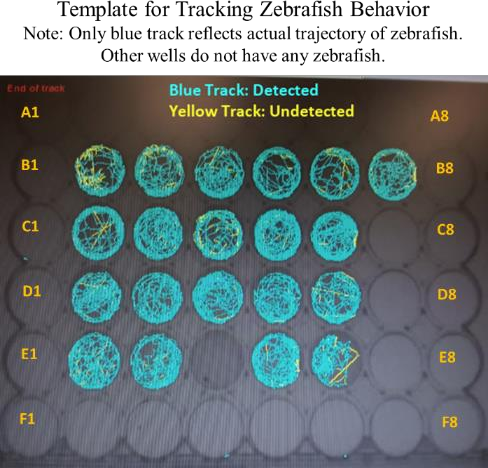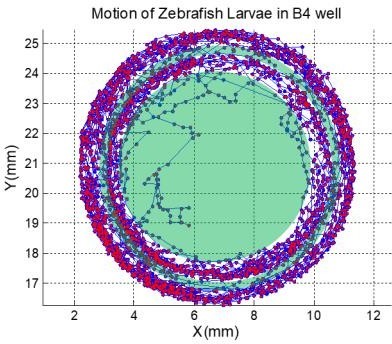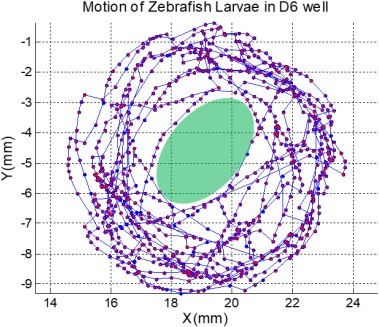 Below: Zebrafish physiology affected by stressors (light, thermal, centrifugation), and the effect of suborbital flight on gene expression.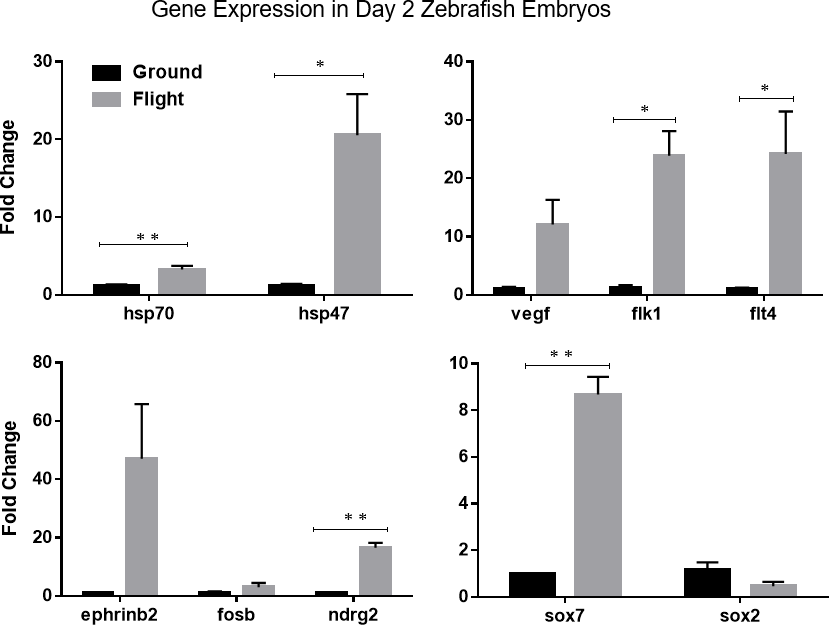 Below left: New Shepard's Capsule. Below right: NanoLab science experiment with zebrafish embryos and spirulina.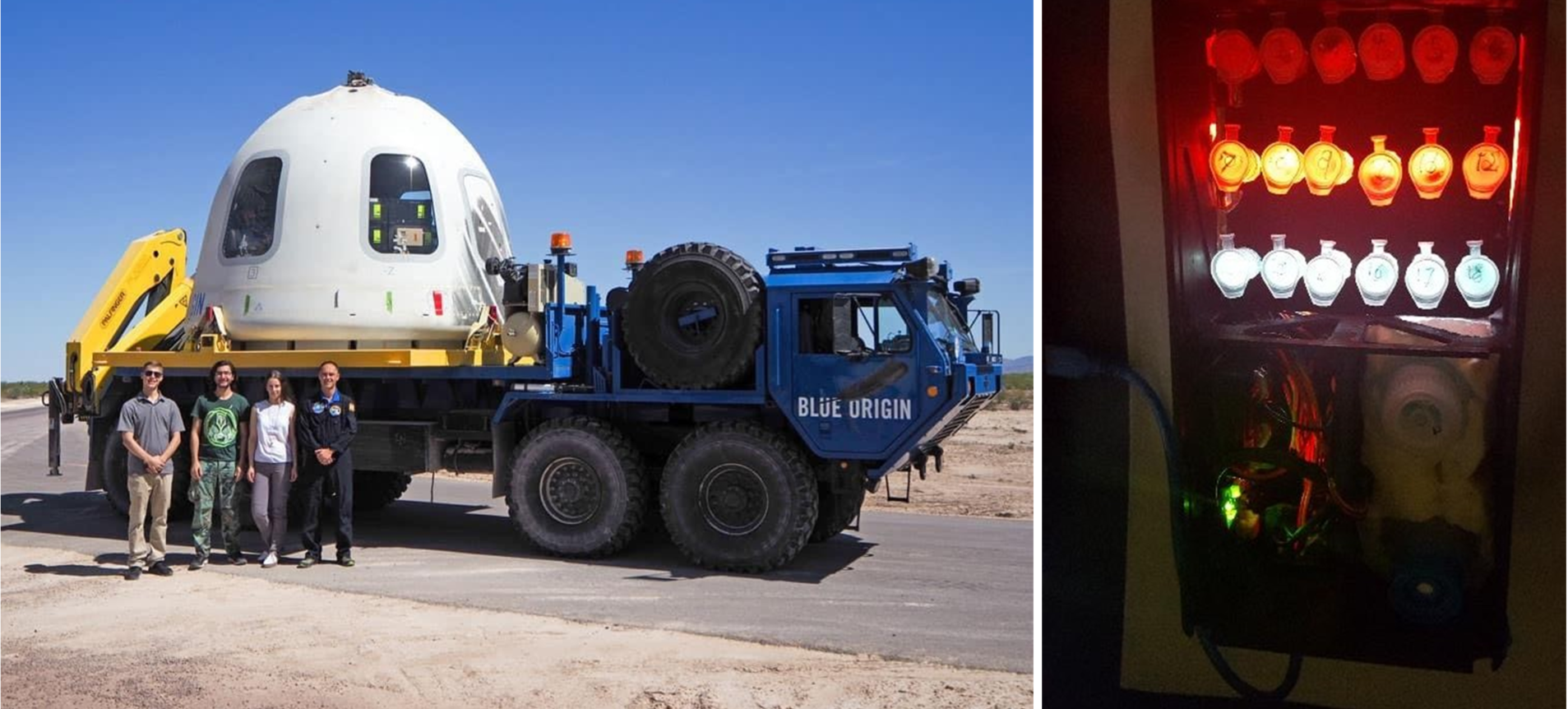 Below left: Flight Zebrafish embryos. Below right: Confocal microscopy of zebrafish.

Below: Confocal microscopy of spirulina flight samples.

Research Dates
05/01/2018 to 05/31/2019
Researchers