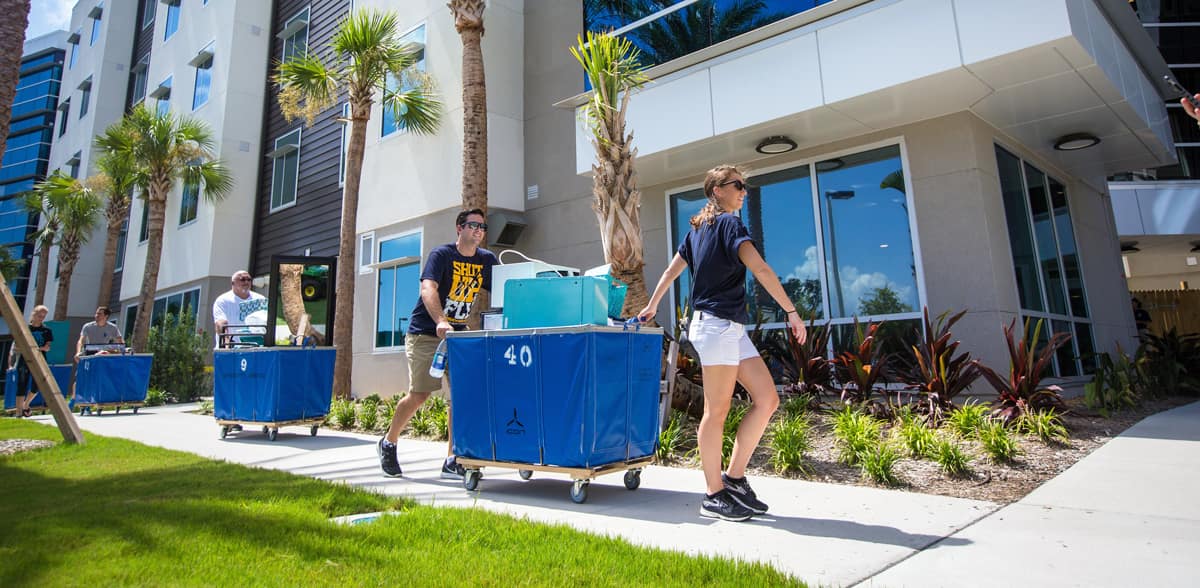 Check-In and Move-In Dates
Incoming First-Year Students Fall 2023: Orientation Check-In and Housing Move-In occur on August 20 and 21. Sign-ups for check-in are available on the orientation website. Open check-in will occur on those days between 2 p.m. and 5 p.m. More information will be available after housing room selection in June.
Returning Students Fall 2023: Housing Move-In is on August 25, 26 and 27 from 9 a.m.-5 p.m in the Student Village Atrium.
Spring 2024 Check-In: Please check back in November 2023 for Check-In information.
You can locate your hall and room number on your Housing Self-Service Portal. You will use your ERNIE login credentials to access your information, and you can also find out who your roommate and suitemates are on the housing portal. Once you log in, you will ensure you using the correct academic semester (Fall 2021) and click on the room link for more details.
Where to go

Follow signs to ICI Center for drive-thru check-in.

Parking

On move-in day, parking permits are not required for non-specialized spaces. Please do not park on sidewalks, in the grass, or in handicapped spaces or other specialized spaces (unless you have a permit).

What you need

You! You must be present to receive your room key. A parent or friend cannot be issued your keys and may not check out a key.
Summer in Florida tends to be hot, humid, and rainy. Please bring water to stay hydrated, and it is recommended that you dress comfortably and wear closed-toed shoes. Please consider bringing a dolly or hand truck to assist you in moving items into your new home!
Label all boxes and items with your last name, student ID number, building name, and room number - many items tend to look alike and this will help us return a lost item to you, should it go missing.
Students must complete the drive-thru check-in process where they will receive their room keys for their building after they check in with Orientation staff. Once, you have completed your check-in process, you can proceed to your residence hall. If you do not have your EAGLEcard before arrival, it is highly recommended that you proceed to the Student Union to receive your EAGLEcard before you begin unpacking your belongings. Also, if you have any questions or concerns when you arrive at your residence hall, hall staff members will be present throughout the building and lobby to assist — just look for the individuals in HRL staff shirts or polos.
Housing and Residence Life