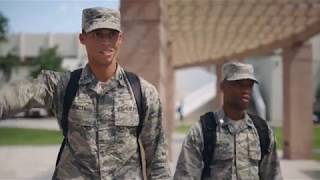 Play Video,
DB AFROTC Video 2
What is Air Force ROTC?
The Air Force Reserve Officer Training Corps (AFROTC) is an educational program designed to give men and women the opportunity to become Air Force officers while completing their degrees. The Air Force ROTC program is designed to prepare you to assume positions of increasing responsibility and importance in the modern Air Force and Space Force .
Four-Year Program
Air Force ROTC consists of four years of military education. The first two years of the program, taken during your freshman and sophomore years, is called the General Military Course. As a GMC cadet, you will be able to try out Air Force ROTC for up to two years without incurring any obligations unless you are on an Air Force ROTC scholarship. As you attend class, you'll learn more about the Air Force and the historical development of air power. The last two years are called the Professional Officer Course. These junior- and senior-level classes cover leadership skills and national defense policies and are intended to prepare you to serve as officers in the Air and Space Forces of the Department of the Air Force.
Detachment 157

Air Force Reserve Officer Training Corps (AFROTC) Detachment 157 is located at Daytona Beach, FL. Detachment 157, hosted at Embry-Riddle Aeronautical University, is one of the largest detachments in the country and produces the most officers of any AFROTC unit. It is comprised of five campuses:
Embry-Riddle Aeronautical University
Bethune-Cookman University
Daytona State College
University of Central Florida, Daytona Beach Campus
Stetson University
In addition, Detachment 157 is one of the top pilot producers for the Air Force, with the exception of the Air Force Academy.
* Current as of Sept. 19, 2023
Directions
We are located at the corner of Clyde Morris Boulevard and Richard Petty Boulevard in Daytona Beach, Florida, on the first floor of the Brigadier General William W. Spruance ROTC Center on the Embry-Riddle Aeronautical University Daytona Beach Campus.
The appearance of hyperlinks does not constitute endorsement by the U.S. Air Force or the information, products, or services contained therein. For other than authorized activities such as military exchanges and morale, welfare and recreation sites, the U.S. Air Force does not exercise any editorial control over the information you may find at these locations. Such links provided are consistent with the stated purpose of this DOD Web site.
This Official U.S. Government Internet site is provided as a public service by Air Force ROTC and the IT department at Embry-Riddle Aeronautical University. It is intended for use by the public for viewing and retrieving information only. Unauthorized attempts to upload information or change information on this service are strictly prohibited and are punishable under the rules of this university, the Computer Fraud and Abuse Act of 1986, and other state and federal laws. Unless otherwise indicated, all information is public information and is available to copy or distribute. Use of this system constitutes consent to security testing and monitoring. The views expressed in educational research, studies, analysis, or commentary are those of the author and do not reflect the official policy or position of the U.S. Air Force, Department Of Defense, U.S. Government, or this educational institution.
Privacy and Security Notice | The Presence of Commercial/External Links | FOIA Notice