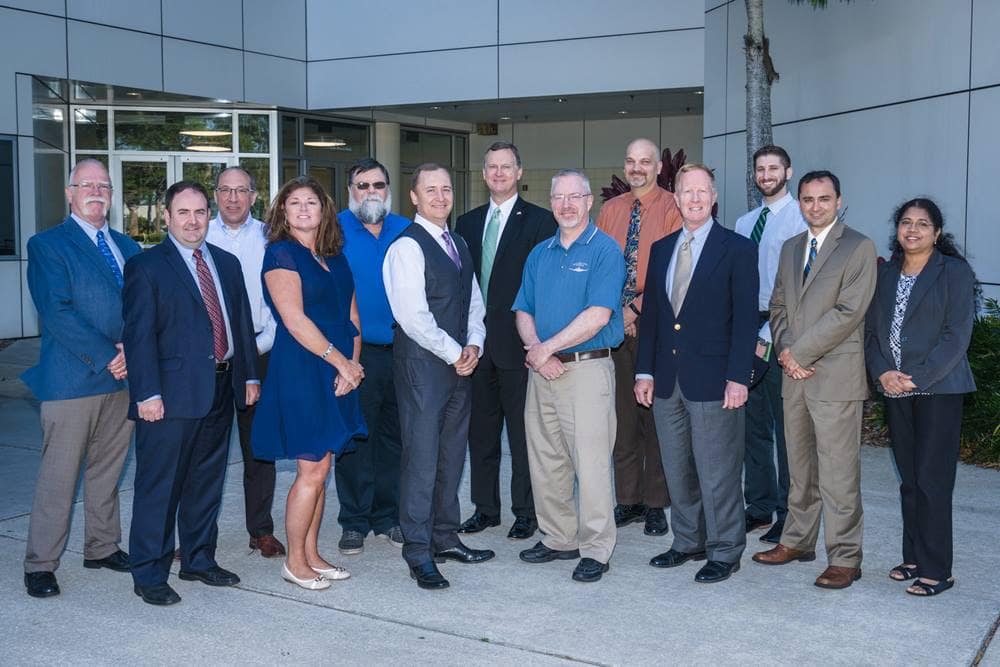 The Department of Electrical Engineering and Computer Science's (EECS) Industry Advisory Board keeps the department's academic programs and research activities in touch with current happenings in the industries we serve. Board members are technical and professional leaders in their enterprises, and we appreciate their generosity in providing feedback and timely information to the department.
Thomas Bachman
Founder and CEO
I.T.L. Systems 833 Priestford Road
Darlington, MD 21034
443-417-3325
tbachman@itl-systems.com
---
John Blakey (BSAET 2004)
Senior Principal Electronics Engineer
Northrop Grumman Aerospace Systems
2000 W. NASA Blvd.
M/S BM222
Melbourne, FL 32904
321-726-7876
John.Blakey@ngc.com
---
Michael Braasch
Thomas Professor of Electrical Engineering
Russ College of Engineering and Technology
Ohio University
Athens, Ohio
740-593-0105
braaschm@ohio.edu
---
Albert Canabal
---
Ian K. Das
ERAM Applications Software Engineering Manager
Leidos Transportation & Financial Solutions
1881 Checkerberry Ct., Oviedo, FL 32766
240-328-8272
ian.k.das@leidos.com
---
Matthew del Buono (BSCE/MSE 2010)
Senior Software Engineering Manager
[MADELBUO] USWARED028/2283
Microsoft Corporation
4200 150th Ave NE
Receiving Bldng 123
Redmond WA 98052
425-706-2740 x62740
Matthew.DelBuono@microsoft.com
---
Carl Herberger (BSAS 1991)
Chief Operating Officer
Kivu Consulting
610-529-6229
carl.herberger@radware.com
---
Curt Kienast (BSCE 2001)
Vice President, Global Operations and Service
Mevion, Inc.
300 Foster Road
Littleton, MA
518-253-9152
ckienast@mevion.com
---
Partrick Layton (BSCE 2004)
The Boeing Company
Huntsville, Alabama
laytonp@gmail.com
---
Kim Madler (BSCS/MSE 2004)
Consultant
madler.kim@gmail.com
Wesley Milks, Ph.D.
Principal Architect and CMSP
Virtual Heroes Division
Applied Research Associates
11315 Corporate Blvd, Suite 250
Orlando, FL 32817-8343
407–823–9121, x840018
407–540–0407 (M)
wmilks@ara.com
---
Webert Montlouis
Consultant
webert_montlouis@ieee.org
---
Daniel Penny III (BSCE 2003, MSE 2005)
Principal Technical Project Manager
Collins Aerospace
321-446-4383
daniel.penny@rockwellcollins.com
---
John E. Post
Chair, Department of Computer, Electrical, and Software Engineering
Embry-Riddle Aeronautical University, Prescott Campus
Prescott, Arizona 86301
928–777–6651
postj@erau.edu
---
Sarah Printy (BSCE 2009)
Systems Engineering Manager
Lockheed Martin 1111 Lockheed Martin Way, Bldg154, Clmn. 2H6
Sunnyvale, CA 94089
408.756.0923
sarah.e.printy@lmco.com
---
Colonel Michael Sarchet, USAF, Ret.
National Reconnaissance Office
14675 Lee Rd
Chantilly VA 20151
703-808-2852
sarchetm@nro.mil
mike.sarchet@hotmail.com
---
Brett Schmuki (BSACS 1997)
Senior Software Manager, Skunk Works
Lockheed Martin Mission Systems
Fort Worth, Texas
brett.schmuki@lmco.com
---
Cyro Stone (BSAET 1992)
Senior Director, Global Design and Engineering
Celestica
602–421–0841
cystone@celestica.com
---
Diarmuid Strasser (BSAET 1991)
Principal Customer Support Manager
Rockwell Collins
Cedar Rapids, IA
319–295–2199
drstrass@rockwellcollins.com
---
Wesley Tanis (BSCS/MSE 2007)
Lockheed Martin Research Engineering
MZ 1116
1011 Lockheed Way
Palmdale, CA 93599
661–572–5461
wesley.tanis@lmco.com
Daytona Beach Campus
1 Aerospace Boulevard
Daytona Beach, Florida 32114