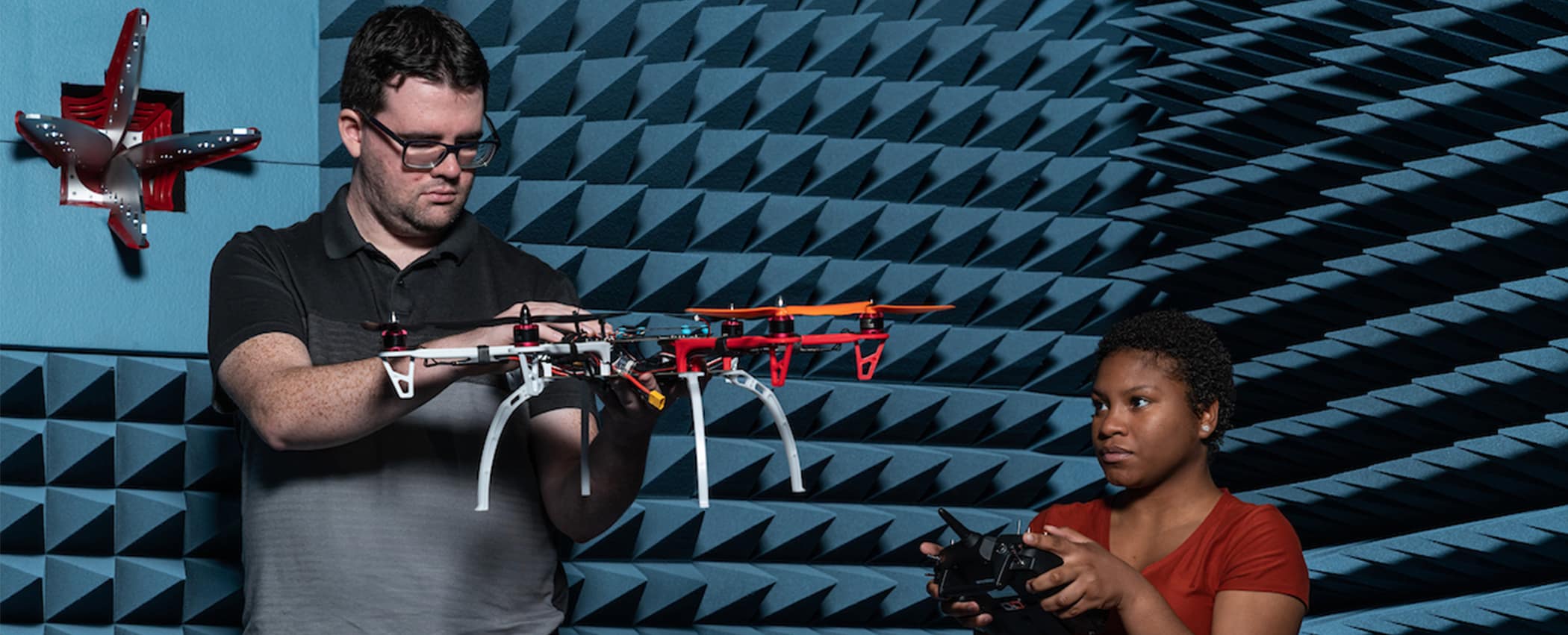 Students in the Department of Electrical Engineering and Computer Science work on — and even develop — the technologies that make air and space flight possible. From navigation and control systems to the electroluminescent dimming of the windows in a 787 airliner, these technologies involve embedded computers like those found in mobile phone and flight control systems.
There is always something new being developed in this area, and students get to work with the latest systems in electronics and the digital world.
The EECS Department has four undergraduate programs: Computer Engineering, Computer Science, Electrical Engineering, and Software Engineering. Each of these programs involves a high degree of systems thinking: understanding how the individual parts of a complex system fit together to make a working whole. Students don't just work within their own discipline, they interact with other disciplines, too, just like real-world engineers.
Each degree program includes plenty of hands-on experience. Starting from the first day, students work individually and in teams on engineering projects like electrical controllers or computer programs. All four programs share a common multidisciplinary capstone design course, in which students from all the fields work together in teams on an industry-level project.
This prepares students for real-life work experiences, so Embry-Riddle's EECS engineering students are in high demand. Because they leave the program not only with a degree, but also ready to go to work as engineers, it is common for students to have job offers lined up before graduation.
At the graduate-level, the EECS Department offers the Ph.D. in Electrical Engineering & Computer Science as well as Master of Science degrees in Cybersecurity Engineering, Electrical and Computer Engineering, Software Engineering, Systems Engineering, and Unmanned and Autonomous Systems Engineering.
Learn More About Our Department Degrees
* The M.S. in Unmanned and Autonomous Systems Engineering is a cross-departmental degree program.
Accelerated master's degree programs for all of the College of Engineering Master's degrees are also available to exceptional juniors and seniors in the EECS Department; these degree programs apply a student's technical electives to their master's degree.
Daytona Beach Campus
1 Aerospace Boulevard
Daytona Beach, Florida 32114
Student Engagement
The Department of Electrical Engineering and Computer Science supports hands-on project-based learning through student competition teams, discipline-specific honors societies, and professional organizations.