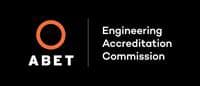 The undergraduate program in Aerospace Engineering program is accredited by the Engineering Accreditation Commission of ABET, www.abet.org, under the General Criteria and the Aerospace Engineering Program Criteria.
Program Educational Objectives
The Bachelor of Science in Aerospace Engineering program exists in partial fulfillment of the University's purpose "to provide a comprehensive education to prepare graduates for productive careers and responsible citizenship with special emphasis on the needs of aviation, aerospace engineering, and related fields." The program's focus is primarily on the engineering of mission-oriented vehicles for atmospheric and space flight.
Within a few years of graduation, the alumni of the BSAE program are expected to have successful engineering careers as productive members or leaders within teams or organizations or as independent innovators, to have applied creative thinking and practical problem-solving skills to the solution of problems or to the development of processes or products for the aerospace industry, or to be engaged in advanced studies.
Furthermore, these alumni are expected to be responsible and ethical members of society and the engineering profession, and to pursue personal development through continuing education and active participation in professional organizations.
Student Outcomes
An ability to identify, formulate and solve complex engineering problems by applying principles of engineering, science, and mathematics

An ability to apply engineering design to produce solutions that meet specified needs with consideration of public health, safety, and welfare, as well as global, cultural, social, environmental, and economic factors

An ability to communicate effectively with a range of audiences

An ability to recognize ethical and professional responsibilities in engineering situations and make informed judgments, which must consider the impact of engineering solutions in global, economic, environmental, and societal contexts.

An ability to function effectively on a team whose members together provide leadership, create a collaborative and inclusive environment, establish goals, plan tasks, and meet objectives

An ability to develop and conduct appropriate experimentation, analyze and interpret data, and use engineering judgment to draw conclusions.

An ability to acquire and apply new knowledge as needed, using appropriate learning strategies
Enrollment Data
Year and Semester
Full or Part Time
Undergrad Students
Master's Students
Ph. D Students
Bachelor's Degrees*
Master's Degrees
Doctorate Degrees
Fall 2020
FT
1570
89
34
199
51
5
PT
56
10
1
Fall 2019
FT
1458
94
32
206
39
6
PT
76
8
2
Fall 2018
FT
1348
86
31
186
48
7
PT
56
9
2
Fall 2017
FT
1343
95
30
178
45
3
PT
59
6
2
Fall 2016
FT
1272
80
29

214

61
-
PT

76

29
0
Fall 2015
FT
1241
122
19
209
39
-
PT
62
12
2
Fall 2014
FT

1199

126

10

201

36

-
PT

64

15

0
Fall 2013
FT

1162

110

3

202

27

-
PT

59

9

0

Fall 2012
FT

1143

92
-

208

40

-
PT

73

6

-
* Degrees Conferred data are Academic Year totals (for example, Fall 2015 is July 1, 2014 through June 30, 2015)
Daytona Beach Campus
1 Aerospace Boulevard
Daytona Beach, Florida 32114