Scholar Athlete Leader
The United States Army wants individuals who are Scholar-Athlete-Leaders (SALs) to serve as officers. They want students who have good grades, excel in physical activities and have served as student or community leaders. SAL students show the mental and physical toughness, as well as discipline, that is required for leadership in any environment. Additionally, possessing a bachelor's degree is a requirement to be commissioned as an Officer. Because Army Officers lead America's sons and daughters into combat, the level of leadership required to face our adversaries on the battlefield requires trust unlike any other profession. Army ROTC is a course in leadership, giving students hands-on experience and skills that will help them succeed in their chosen careers. After graduation, ROTC students become Commissioned Officers. They put their leadership skills to the test every day, and when they leave the field of battle, they are prepared for any career in the business world.
If you have the motivation, the Eagle Battalion's program has a place for you.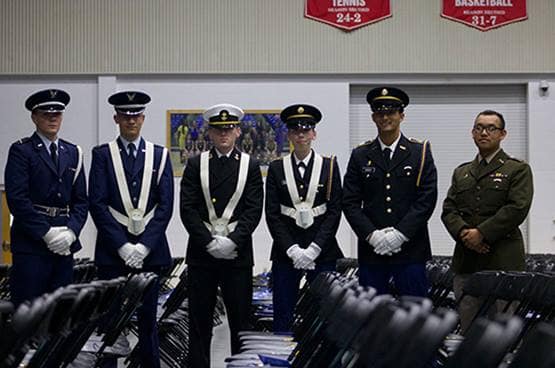 Color Guard
Historically, Drill & Ceremony (D&C) has greatly enhanced the overall effectiveness and efficiency of the US Army from as early as 1776. The Eagle Battalion's Color Guard team provides Cadets the opportunity to enhance their sense of alertness, urgency and attention to detail through the practice of close-order drill movements. Color Guard represents the Military Science Department by honorably carrying the American, state and organization flags through various ceremonies. Our color guard teams have had the honor of presenting the colors at several events, such as Embry-Riddle and Stetson University graduations, MSIV commissioning ceremonies, veteran's events, memorial services, sporting events and many more. Color Guard is an extracurricular activity offered here in Embry-Riddle Aeronautical University's Army ROTC program to support the ideals of patriotism, honor and respect for our nation and the worldwide symbol of freedom: the flag of the United States of America. Participating in Color Guard also provides leadership opportunities for Cadets to gain practice and confidence in commanding, moving groups, bearings and precision enabling them to gain greater discipline.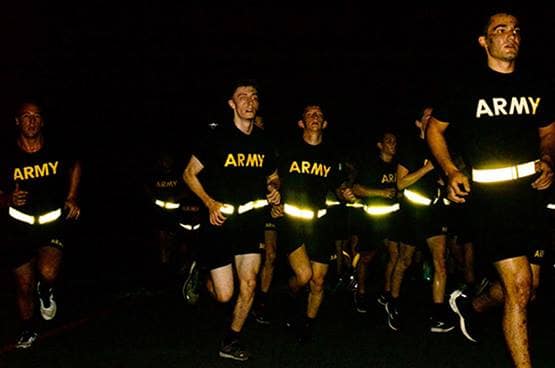 Cadet Ranger Detachment (Ranger Challenge)
Ranger Challenge is an intercollegiate "extreme" sport that pits nine member teams against each other in local, regional, national and international competition. The sport requires both physical and intellectual dexterity to successfully accomplish all the required tasks. Students undergo extensive physical training, weapons training and hands-on common skill training in preparation for competition with other ROTC Battalions throughout the region at the national Sandhurst Competition.
Intramural Sports
The Department of Intramural and Recreational Sports at the Embry-Riddle Daytona Beach campus provides a wide variety of intramural sports and contests throughout the year. The various leagues and tournaments emphasize mental, social and physical well-being. A wide variety of activities, ranging from team sports to individual competition, is available to Embry-Riddle faculty, staff and currently enrolled students. The activities include flag football, volleyball, basketball, dodgeball, soccer, softball, table tennis, disc golf, kickball and more! Cadets may also form their own teams as an opportunity to build leadership skills and continue their pursuit of the warrior mindset.
The Intramural and Recreational Sports Office is located in the ICI Center in Room 102. For more information, visit the Intramural and Recreational Sports site, or contact Camille Jackson at 386-226-6431 or Camille.Jackson@erau.edu.
Race Volunteering and Speedway Run
As a Cadet in the Eagle Battalion, you will live your life in accordance with the Army Values: Loyalty, Duty, Respect, Selfless Service, Honor, Integrity and Personal Courage. We take great pride in adhering to these and incorporating them into events. In this Battalion, you will have the honor of volunteering at many of the races that the Daytona International Speedway hosts every year! You will be close to all the action with this once-in-a-lifetime experience while boosting morale, raising awareness for the Army ROTC program and selflessly serving an organization that helps us continue our legacy as a prestigious program. We have partnered with the Speedway to raise funds for all the exciting events the Eagle Battalion provides each year, as well as benefiting the Daytona Beach community.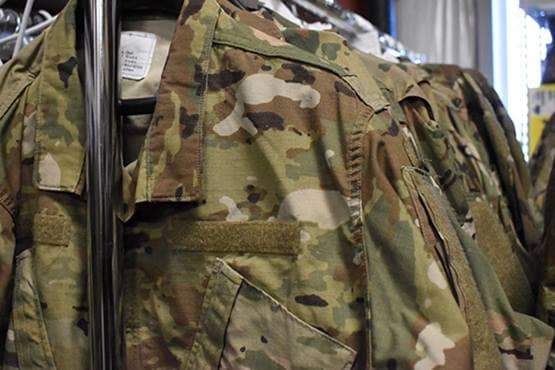 Cadet Staff Assistants
If being an aid to the program from behind the scenes is more up your alley, ask about becoming an assistant to one of our Battalion Cadet Staff Members. Our Cadet Staff works tirelessly to provide the best ROTC experience for all Cadets and could use your help to uphold that standard.
Working with Battalion S3, you will be helping them with all matters concerning training, operations and plans. The S3 has one of the hardest jobs in the staff, as they keep all sections afloat and on track. They plan every LLAB, FTX, fundraiser and event that the Eagle Battalion completes.
Responsibilities can include but are not limited to:
Assist in planning, organizing and supervising the conduct of all Cadet training.
Publish calendars and track OPORDs.
Assist in planning BN events.
Develop quality, feasible plans for the BN to execute.
Working with Battalion S4, you will assist in managing property accountability and coordinating the supply activity of the battalion in supply. This is a very important role, as any equipment you will need as a Cadet will be issued by the S4 shop.
Responsibilities can include but are not limited to:
Assist in the operation of the supply room,­­ preparation for inspection and maintenance of the supply room.
Obtain and maintain accountability for supplies, equipment and messing for field exercises.
Ensure Documentation of Equipment.
Oversee equipment issue.
Stock shelves.
Organize supply shop.
Working with Battalion S5, you will assist in the Battalion's public affairs. This is very important, as the work from the S5 shop draws the attention of potential students, parents and Brigade Leadership!
Responsibilities can include but are not limited to:
Update social media (Facebook/Twitter/Instagram) weekly with current photos and information.
Ensure overall marketing and advertising is relevant, informative and current.
Serve as a photographer for BN events and ensure Cadets have access to the pictures.
Coordinate pictures for the Cadet board and plaques.
Advertise the accomplishments of the Eagle BN.