Embry-Riddle is a special place. There is rarely another campus where almost everyone — faculty, staff and students — shares a passion for aviation and aerospace. At the College of Engineering we leverage this unique sense of identity to cultivate an atmosphere that fosters pride, honor, and professionalism as much it emphasizes academic rigor and teaching critical skills.
Serving as the Dean, I am honored to work with a group of dedicated student-focused faculty and staff. Collectively, our primary focus is on student success, while we push the frontier of technology through our research and innovation.
Our college's reputation and our engineering programs' high rankings come from a tradition of teaching excellence and a vast array of well-equipped laboratories and maker spaces, which enable our hands-on and learning-by-doing philosophy. The John Mica Engineering and Aerospace Innovation Complex, for example, contains our newest and most advanced laboratories. The world-class facility is where engineering research, business incubator spaces, and the presence of aeronautics and space-focused industry collide to create an ecosystem of innovation and entrepreneurship support.
Together, our faculty and students push the frontiers of knowledge every day. I invite you to learn more about what the College of Engineering can help you achieve and look forward to guiding your academic journey.
Sincerely,
Maj Mirmirani, Ph.D.
Dean
About Dean Mirmirani
Dr. Maj Mirmirani has been serving as the Dean of the College of Engineering since October 2007.
Prior to joining Embry-Riddle, Dean Mirmirani was a professor and chairman of the Mechanical Engineering Department at California State University, Los Angeles (CSULA). At CSULA, he founded and directed the Multidisciplinary Flight Dynamics and Control Lab, and was a senior principal investigator at the NASA University Research Center. He led several major research projects funded by NASA, the Air Force Office of Scientific Research, NSF, and industry. Most notable among them are: modeling, simulation, and control of airbreathing hypersonic flight vehicles; design and development of a high-endurance hydrogen fuel cell-powered UAV; design and fabrication of a full-scale precision segmented reflector testbed; and development of multidisciplinary software for CFD, FEA, and control analysis for aerospace vehicles. He received the CSULA 2002-2003 University Outstanding Professor Award and the university's 1996 Meritorious and Professional Promise Award. Dean Mirmirani is a Fellow of the ASME, and an Associate Fellow of the AIAA. He is a private pilot, and a member of the Airplane Owners and Pilots Association (AOPA).
Dr. Mirmirani received his Ph.D. and M.S. in Mechanical Engineering from University of California at Berkeley, and his B.S. in Mechanical Engineering from Amir Kabir University in Tehran. He spent a year at the Imperial College of Science and Technology in London as an academic visitor.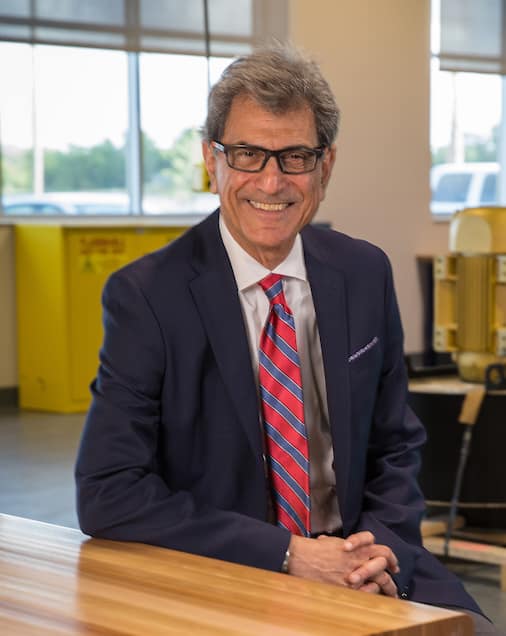 Dean Maj Mirmirani
Daytona Beach Campus
1 Aerospace Boulevard
Daytona Beach, Florida 32114