Embry-Riddle is committed to supporting your academic success from the beginning. That's why we use online placement evaluations to determine the best classes for you.
All Daytona Beach Undergraduate Students Must Complete These Exams
The Composition Online Evaluation (CompEval) and the ALEKS Placement, Preparation and Learning (ALEKS PPL) will help determine the best composition and math classes for you to begin your studies. You will not be able to register for composition or math classes without completing the ALEKS PPL and CompEval unless you have received credit for those courses through Advanced Placement, International Baccalaureate, dual enrollment or transfer credit.
Daytona Beach undergraduate students only:
The links will take you to the ALEKS PPL and CompEval sign-in pages where you will find more instruction regarding each evaluation. Then you'll be prompted to enter your ERNIE log-in in order to begin the evaluation.
If you are returning to ALEKS to continue your self-paced study or to take another evaluation, please take the following steps to make sure you do not create a duplicate account: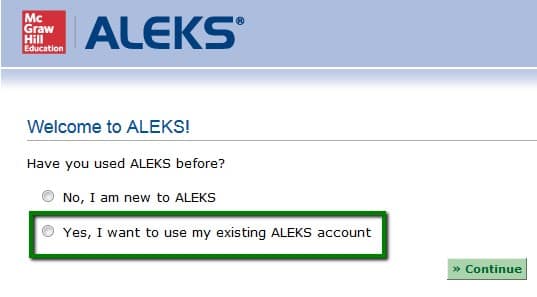 In ALEKS, select "Yes, I want to use my existing ALEKS account"
Enter the login name and password for your account.
Click the link for your placement cohort.
Engineering Students Who Must Complete This Exam: Aerospace, Civil, Mechanical, Still Exploring
Strong spatial visualization skills are cognitive skills linked to success in the science, technology, engineering, and mathematics (STEM) fields. If your major is Aerospace Engineering, Civil Engineering, Engineering Physics, Mechanical Engineering, or Still Exploring Engineering, the Purdue Spatial Visualization Test-Visualization of Rotations (PSVT:R) exam will help determine whether you need EGR 100 — a course designed to provide spatial visualization training to those who require it.
The link requires your ERNIE log-in. After logging in, you'll be provided with additional instruction.
Worldwide Students Only
Worldwide Placement exams for Worldwide Students Only are available.
Placement Results
After completing the evaluations, the courses for which you should register will display in your "Student Center To-Do List." Please allow a few days for the results of the evaluations to post in Campus Solutions.
Daytona Beach Campus
1 Aerospace Boulevard
Daytona Beach, Florida 32114