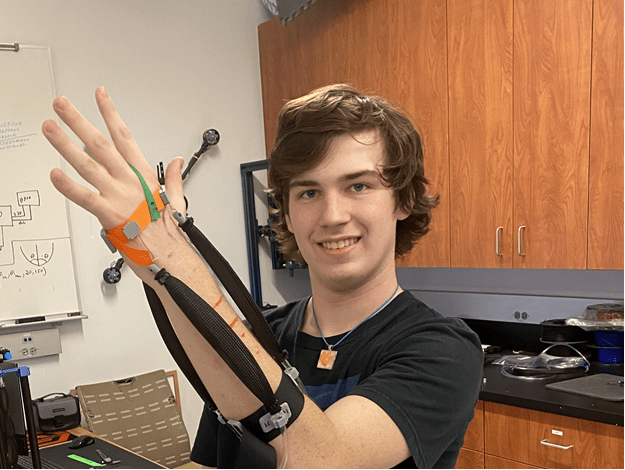 Degree Program: Mechanical Engineering, Robotics tract
Year: Sophomore
How has undergraduate research impacted your life?
Undergraduate research has given me a place to belong at Embry-Riddle. I feel while I do my research and help in the Engineering Physics and Propulsion Lab (EPPL) I am able to design and create things that can truly advance engineering as well as other fields making a difference in the world around me. From the experience I am gathering here I would like to be able to take it and continue research and development of many similar projects in my life as I feel I can help improve the world around with these.
The opportunity I received from working with undergraduate research will forever shape who I am as an engineer and the way I will tackle and understand problems. This is why I do truly value the opportunity and chance I have been given and will take it with me to tackle the trials I will experience in my schooling and life to come.
What does research mean to you?
Research is the opportunity to take a single thought and work on building upon it till it is something that can change the world around you in any way possible big or small, all along the way asking the quintessential question of "how?"
Describe some of the projects you have worked on
Omni-usability Soft Robotic Exoskeleton
The overarching concept of the Omni-usability Soft Robotic Exoskeleton (OSRE) is to create a safe full body exoskeleton platform that can be used in a variety of fields by simply changing the programming based on the desires or needs of the user. The OSRE uses Mckibben muscles to mimic the body's natural muscle groups and how they move. This allows for seamless integration once a user puts on the OSRE. This works by reading the electrical signals from the muscles of the user with small electrodes reading electromyography signals, but it can also be used by having preset programs. These programs however would be predominantly used for case by case scenarios rather than being normally adaptive with its electrodes. Due to how the design utilizes Mckibben muscles, the OSRE can be used as a resistive or assistive device. The main purpose for this soft robotic exoskeleton is to act as a platform for further research and application to be done in a variety of fields especially medical rehabilitation and aerospace physiology.