Program Overview
While ERAU-DB departments already have a formal process for faculty to complete evaluations, these reviews are typically designed to evaluate performance for the purposes of tenure and promotion. With this limitation in mind, CTLE developed and facilitated the Teaching Partners program to encourage faculty self-reflection and pedagogical development. This program implemented a "true hybrid" model of evaluation (Yiend, Weller, & Kinchen, 2014) that included peer faculty members and a faculty developer. Unlike traditional, department-guided observations, the Teaching Partners program is not included as part of the faculty member's promotion and tenure materials. Using web-based software as a method for providing feedback provided an opportunity for faculty developers to asynchronously observe courses on a larger scale and provide directed pedagogical feedback in new ways to produce formative rather than summative feedback. The program has two goals:
To encourage self-reflective teaching
To facilitate faculty implementation of new teaching pedagogies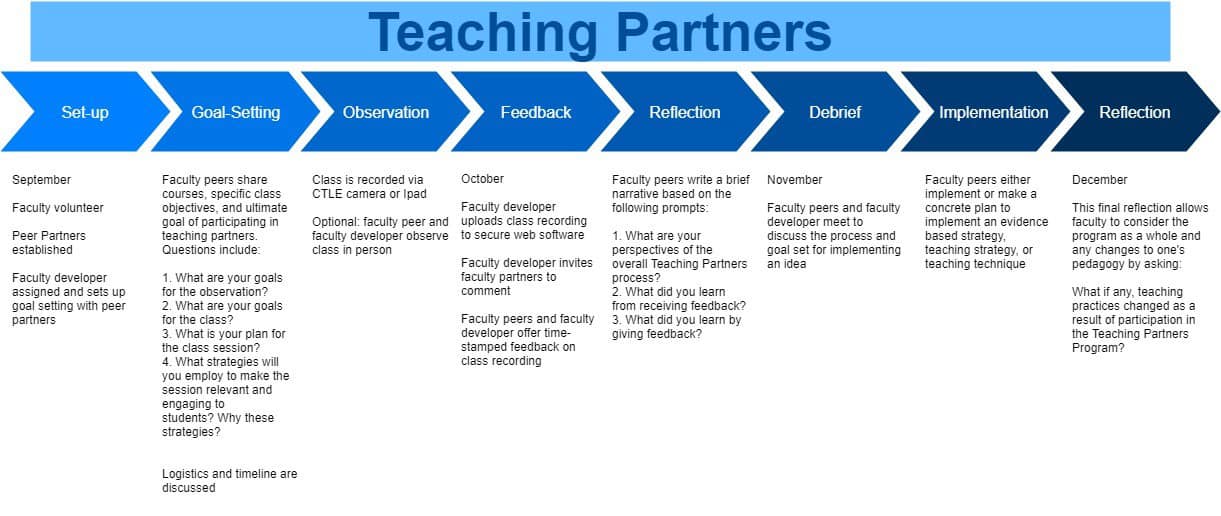 A Peer-Review of Teaching Model
Gosling (2002; 2013) identified three distinct models of peer review:
Evaluation model (or management model) – involving senior staff observing
Developmental model – involving educational developers, expert teachers, or learning and teaching practitioners in the observation process
Peer review model – where teachers observe teachers. The model's described above have distinct purposes, processes, and modes of feedback. The evaluative model is more summative in nature, the peer review more formative, and the developmental model includes outside experts or observers and may include both aspects of summative and formative feedback. Teaching Partners drew heavily upon the developmental and collaborative models for this hybrid program.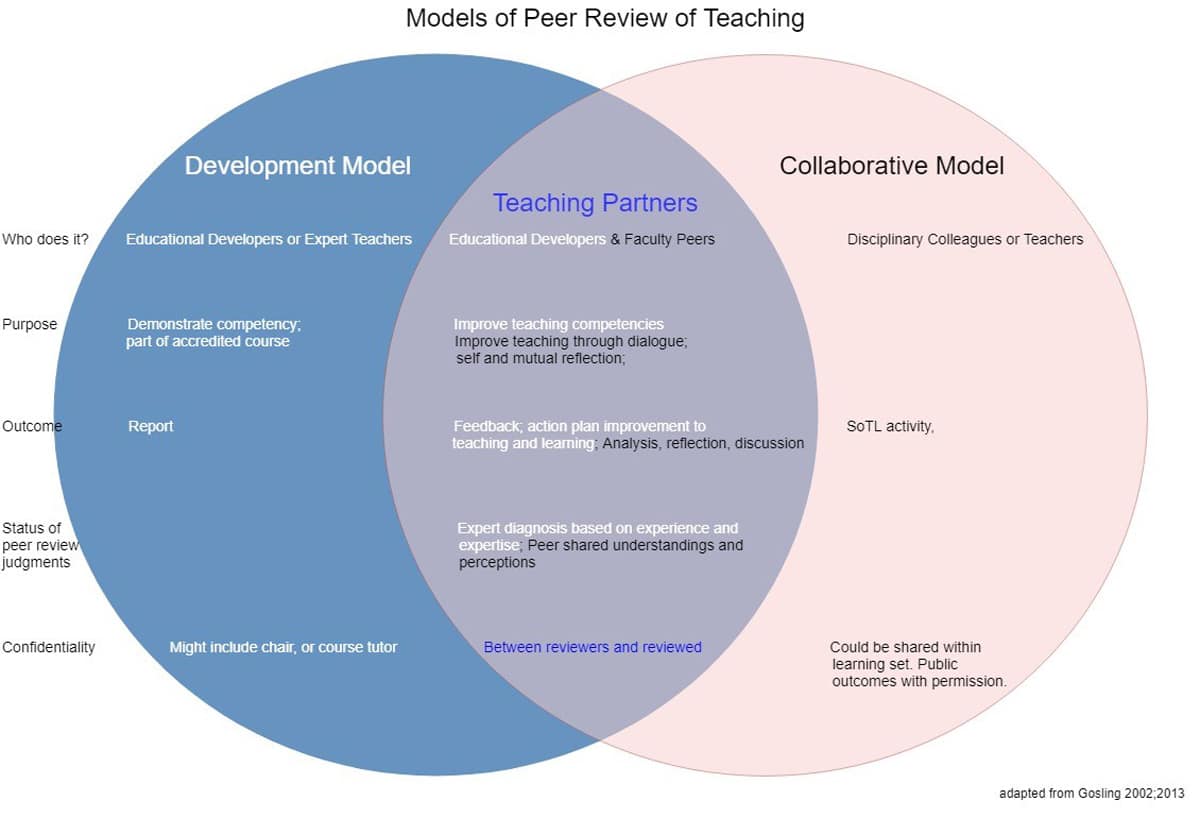 References
Gosling, D. (2002). Models of peer observation of teaching. Generic Centre: Learning and Teaching Support Network. Retrieved, 8(10), 08.
Gosling, D. (2013). Collaborative Peer-Supported Review of Teaching, in Peer Review of Learning and Teaching in Higher Education: International Perspectives, J. Sachs & M. Parsell, Dordrecht, Springer, p 13 – 31.
Rohrbacher, C. & McKee, J. (2019). "Asynchronous Electronic Feedback for Faculty Peer Review: Formative Feedback That Makes a Difference". Handbook of Research on Faculty Development for Digital Teaching and Learning, Elçi, A., Beith, L., Elçi, A. (Eds.). IGI Global.
Yiend, J., Weller, S., Kinchin, I. (2014). Peer observation of teaching: The interaction between peer review and developmental models of practice, Journal of Further and Higher Education, 38:4, 465-484.
Daytona Beach Center for Teaching and Learning Excellence