Embry-Riddle brought in 10 students from different universities for an NSF-funded project to participate in an elite 10-week research experience that allowed undergraduates the chance to work alongside experienced faculty mentors and explore pressing aerospace problems. The research is housed in Embry-Riddle's College of Engineering and College of Arts and Sciences, with most of the College of Engineering research done in labs at the MicaPlex, an incubator for innovative new companies and the cornerstone building of the university's renowned Research Park. During the REU program, students used our leading-edge laboratories to conduct multidisciplinary research in aerospace engineering, chemistry and applied space biology with a goal of improving future space materials science and human diagnostic technology. This Interdisciplinary Research Experiences for Undergraduates (REU) will be repeated in the summers of 2023 and 2024 with new students. This Program provides total immersion into all aspects of laboratory work along with other enrichment activities. Some activities for this summer included visiting companies in the vicinity, to allow the students interact with the industry for a vision of applied research.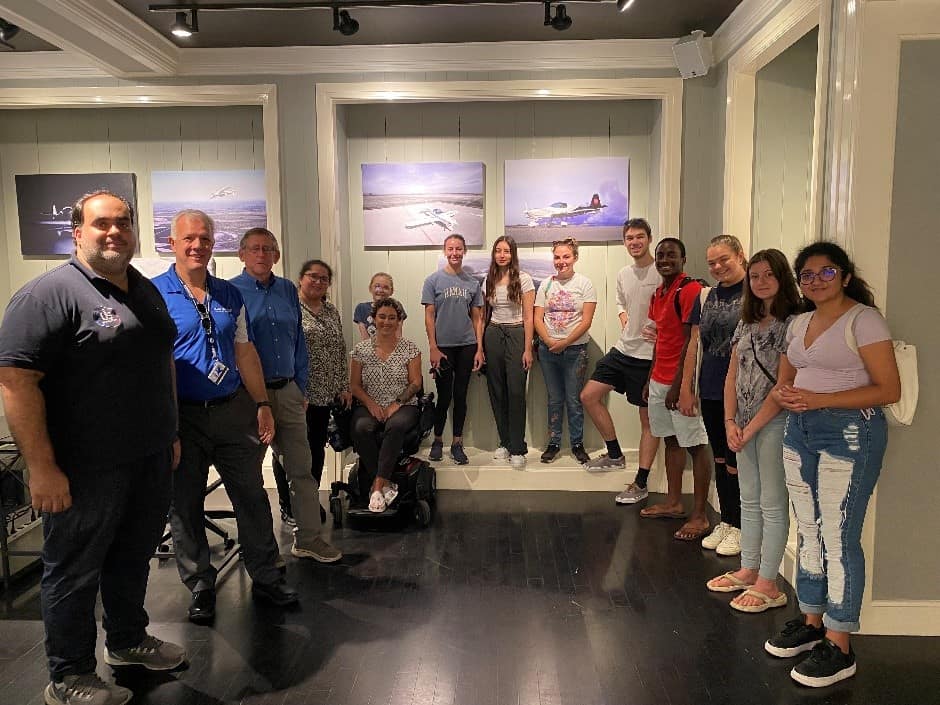 REU group received at US Simulation
Visit to US Simulation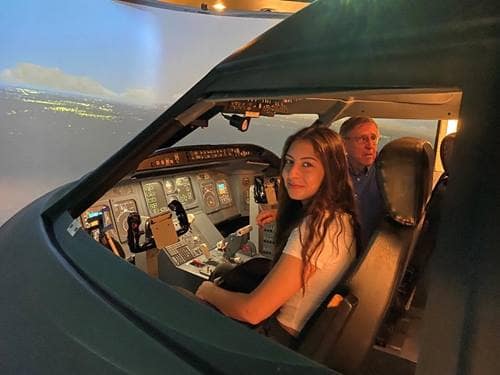 Yaren Colak receiving take off training in a CRJ-200 simulator.
The group visited the US Simulation LLC Located in the Volusia Mall. US Simulation has over 10 different flight decks with realistic simulators to allow pilots to train in different categories of airplanes. The available simulators the pilots can train and fly are Boeing 737-Max, Cessna 172 Nav 3 G1000, Frasca CRJ-200, Bot Journey Lsa, Seamax M22, Citation Cj1, A320, among others.
One of the students in the program, Kaitlyn Bice, described her experience with US Simulation: "The visit to U.S. simulation was such a fun and hands-on experience. The staff was incredibly welcoming and knowledgeable. Whether you're interested in a career in the aerospace industry or not, it is so exciting to experience a flight simulator". Another student, Braelyn Bolger, who is about to get her flight license, explained her feeling on the visit: "The simulation is an amazing opportunity for student to get inspired with aviation. It also gives those who have always been interested a chance to try it out and get involved."
---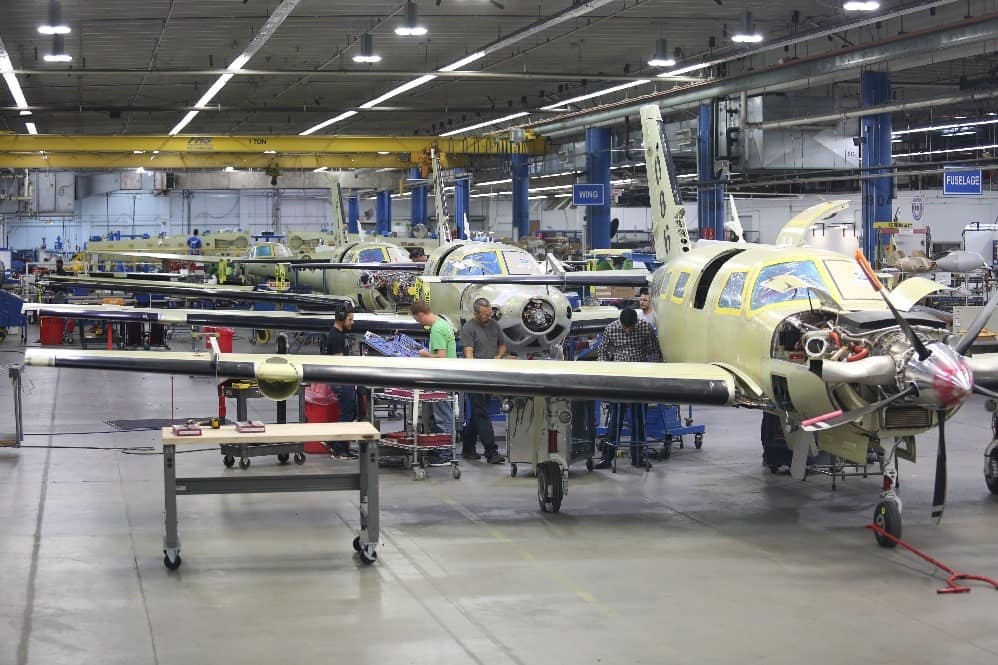 Piper M600 Assembling Line
Visit to Piper Aircraft
The visit to Piper Aircraft included a road trip to Vero Beach, FL. Piper is one of the few aircraft manufacturers that maintain a vertical line of production meaning the company build parts from raw material. The students had the opportunity to walk through the manufacturing line, including fabrication of small parts, integration of components, assembling line, interior design and fabrication and finally the flight line. With the exception of avionics/electronics and engine, Piper manufactures in house all other components of its airplanes. Among the lines visited, the students could see the M600/SLS, the Archer Series, and the Pilot 100i.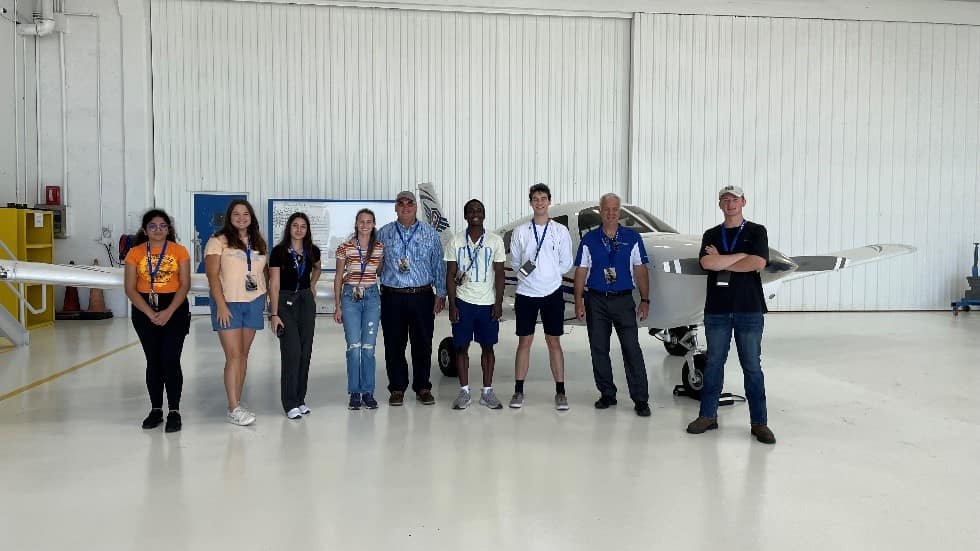 REU team at Piper Aircraft in Vero Beach, FL
Joshua Hollins, one of the REU students had the following comments on the visit: "The part that I found to be the most interesting about our visit to Piper Aircraft was the opportunity to see first-hand their aerospace manufacturing processes. I personally have a background in manufacturing and aviation, but this was my first opportunity to see the two put together. Piper was an ideal company to expose me to aerospace manufacturing because of their significant amount of vertical integration". Another student, Kaitlyn Bice, mentioned that "Visiting the Piper Aircraft factory was an once-in-a-lifetime experience. The tour was extremely impressive, and it was fascinating to see so many steps of aircraft manufacturing all in one place. I don't think I could have had this amazing experience if it weren't for the Embry-Riddle REU program".