Meeting and Event Facilities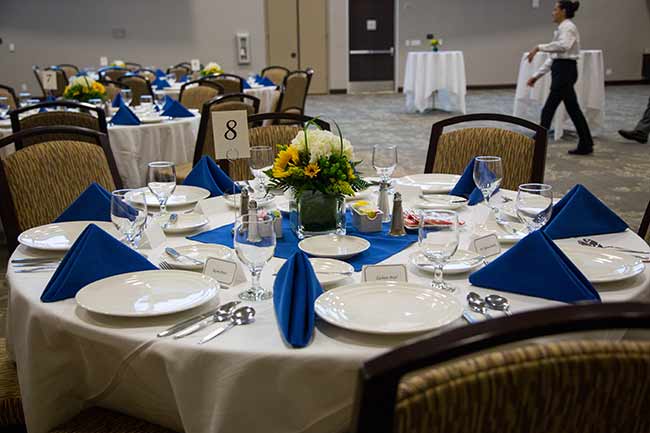 The Conference Services team is available to help you take advantage of Embry-Riddle's cutting edge conference rooms, classrooms, atriums, and large venue spaces. A list of frequently requested spaces is listed in the sections below. The list includes the premiere Mori Hosseini Student Union Event Center, our latest facility located in the heart of the campus, which features six configurable sections making it the perfect location for a variety of event styles. In addition to the venues listed, we offer an assortment of athletic facilities and residence hall housing during the summer months.
Some additional support services available upon request include:
Audio/visual equipment rental, setup, and support
Table and chair rental
Catering services and linen rental
Our facility rental costs vary by location and depend on your support service needs. To receive a custom estimate, please submit a facility request by completing the Facility Request Form. Summer housing inquiries are welcomed via the Summer Housing Request Form.
We look forward to working with you.
Shauna Zaffuto
Conference and Event Coordinator
Classrooms and Conference Rooms
Large Venues


Our large venue locations provide a unique experience for your social hour, dinner banquet, or conference presentations. With several setup options, these venues provide guests with a multi-function space to accommodate any event style.
Location
Banquet Setup
Theater Style
Classroom Style
Features
Atrium: 48 guests
Auditorium: 342 Guests

Atrium: Open lobby space
Sq. Feet: 700

Auditorium: Projector and Large Screen, Presenter Computer, Podium and Microphone

Sq. Feet: 3088
100 guests
75 guests
Projector
Square Feet: 1,604
96 guests
109 guests
100 guests
Open lobby space
Sq. Feet: 1,841
48 guests
65 guests
Open lobby space
Sq. Feet: 1,806

Jim W. Henderson Administration and Welcome Center Atrium

*Additional approval required based on building use qualifications

100 guests
Open indoor space
Power outlets
Sq. Feet: 4,118
96 guests
200 guests
200 guests
Open indoor space
TVs – laptop compatible
Sq. Feet: 2,264
80 guests
per section
100 guests
per section
60 guests;
36 in square style per section
Can host a variety of
different styles and
can be broken up
into six separate sections
Athletic Facilities
As an NCAA school, we pride ourselves in having beautiful and well-kept athletic facilities. Facilities "in season" have limited availability. We will do our best to accommodate requests as available.
Baseball and softball Bermuda grass fields
Full size track and field complex
Full size artificial turf field
Softball artificial turf field
Gymnasium with 3 basketball/volleyball courts