As new challenges emerge in this ever-changing world, engineers develop solutions to make the world a better place for tomorrow.
The robust Engineering degree programs at Embry-Riddle prepare students to implement change in the world. The nation's largest educator of aerospace engineers, Embry-Riddle is also a premier hands-on educator for other engineering disciplines.
Regardless of which discipline you choose, our world-renowned faculty will prepare you for future success. Our specialized degrees offer leading education for all engineering fields, including aerospace, civil, computer, electrical, mechanical, software and systems.
Undergraduate students at Embry-Riddle are introduced to the foundation of engineering in their very first semester. Graduate students are immersed into their research and projects right from the beginning of their program.
All engineering students learn the latest methodologies and study beyond the fundamentals.
Our students are challenged to design solutions, incorporating everything from brainstorming ideas, refining design, building and troubleshooting to final testing and presenting a project. Engineers thrive in this environment.
Our faculty has substantial real-world experience. So we prepare you for workplace success.
Embry-Riddle has degree programs suited to all types of students — from aspiring engineers to those already in the profession.
As one of the nation's top undergraduate engineering schools, Embry-Riddle offers innovative bachelor's programs, with options to combine certain degrees with graduate programs for an accelerated degree.
We also offer master's and doctoral programs for those who wish to take their engineering careers to a higher level. Discover what makes our programs unique.
Review our non-credit continuing education offerings at proed.erau.edu.
Embry-Riddle empowers you to enhance your potential for a fulfilling and rewarding career in engineering. We provide you with the tools, training and skills needed to succeed in this exciting industry.
Within your discipline, you will have every opportunity to excel under the mentorship of dedicated faculty and in a team-driven culture united with fellow engineering students.
Once you take your place in the workforce as part of the vast Embry-Riddle alumni network, you will be recognized as one of the best in the industry.
Mechanical engineering is the broadest of the engineering disciplines because of the numerous opportunities it opens for graduates. Employment forecasts remain strong even during times of economic downturn.
The Bureau of Labor Statistics predicts 20,500 new civil engineering job opportunities through 2028. Demand for software engineering careers remain at the highest levels.
While some students continue to pursue research and advanced studies in engineering and science, many go right to work after graduating from Embry-Riddle.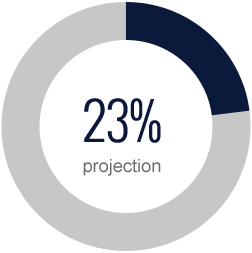 23% of new engineering jobs are projected to be in civil engineering.
(U.S. Bureau of Labor and Statistics, Career Outlook for Engineers)
As our modern infrastructures age, civil engineers become sought-after candidates in diverse fields such as airport development, highway transportation and municipal planning. Electrical engineers establish careers in a wide range of industries, including clean energy, robotics and instrumentation, among many others.
Of course, the aerospace industry employs engineers in every discipline offered at Embry-Riddle.
Our faculty and students are actively involved in engineering-related research. Read about how they're positively impacting the industry in some recent projects below.
Embry-Riddle allows engineering students to gain hands-on experience and knowledge through our state-of-the-art facilities and modern labs.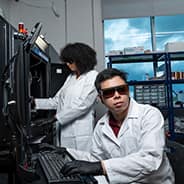 Daytona Beach, FL Campus
On the Daytona Beach Campus, the labs and facilities in the Lehman Engineering and Technology Center and the College of Arts & Sciences feature open workspaces that facilitate collaborative development for interdisciplinary student teams. Here, students are immersed in the entire design-build-test project cycle. Each engineering discipline at Embry-Riddle features a lab component that enables its students to get as much hands-on experience as possible.
The Civil Engineering Infrastructure Lab is used for applied research in civil transportation systems and structural health monitoring.
In the Clean Energy Systems Lab, students develop environmentally friendly and efficient energy systems.
The Circuits and Electronics Engineering Lab, the Control Design Lab and the Aircraft Design Lab are dedicated to problem solving and analysis.
The Advanced Vehicles Green Garage, which houses the U.S. Department of Energy-sponsored EcoCAR competition vehicle, allows students to model, integrate and test advanced hybrid and electric vehicle technology.