Computer and Technology Degrees at Embry-Riddle
The computer and technology degree programs at Embry-Riddle's Worldwide Campus are designed to provide you the knowledge and the skills to stand out in the job market and in your chosen STEM career.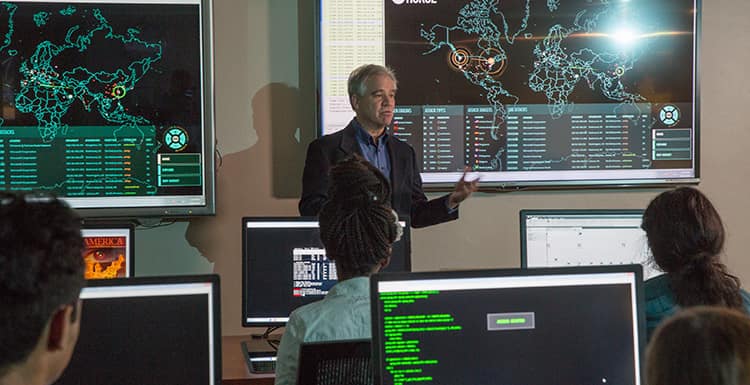 Undergraduates in our Computer, Electrical and Software engineering programs receive hands-on experience beginning in their first semester and culminating with a multidisciplinary capstone project that demonstrates those skills.
Our highly regarded bachelor's program in Engineering Technology offers you the option to select from nine areas of concentration: Aeronautical Science, Aviation Safety, Helicopter Operations and Safety, Uncrewed and Autonomous Systems, Logistics Management, Management Information Systems, Occupational Safety & Health, Project Management, or Security and Intelligence.
As a student here, you will be taught the skills needed to direct the resources of any organization toward its technological goals — regardless of your chosen discipline.
What is a Computer and Technology degree?
These prestigious technical degrees can help you launch exciting career options that range from computer science to cybersecurity and everything in between. Our expert faculty is on the leading edge of innovation both inside and outside of the classroom and help offer the latest in hands-on experience, ensuring that you're ready to hit the ground running from day one.
Where can I work with my Computer and Technology degree from Embry-Riddle's Worldwide Campus?
Our graduates have landed great jobs at companies and agencies that include Boeing, NASA, Raytheon, General Dynamics, Collins Aerospace, L3-Harris, Google, Honeywell, Garmin, Microsoft, the Department of Defense, and federal, state and local governments. Employers choose Embry-Riddle graduates. That's why you should choose Embry-Riddle.
What are the Computer and Technology degree programs at the Worldwide Campus?

We offer bachelor's degree in Engineering Technology, Interdisciplinary Studies, and Technical Management, with graduate degrees available in Management Information Systems and Systems Engineering.

Computer and Technology Degrees & Programs at the Worldwide Campus
Whether you are beginning your higher education or are already a seasoned professional, we have a degree program to help you achieve your goals.
Computer and Technology degree programs at Embry-Riddle are designed to teach you the real-world skills necessary to thrive in today's technologically advanced workplace.
Explore the programs offered at Embry-Riddle's Worldwide Campus to find one the path that is right for you.
Warning! This rendering references a missing or unpublished data source.
Review our non-credit continuing education offerings at proed.erau.edu.
Professionals with computer and technology degrees are in high demand around the world, from aerospace giants like The Boeing Company, Lockheed Martin and Northrop Grumman to global enterprises such as Google, Microsoft and Twitter.
Not only are graduates with computer-related degrees in demand — they are well compensated. According to compensation software and data company Payscale, computer science was among the top paid majors at $75,100 for 2022.
Specific positions in computer-related fields earn hefty annual salaries, such as software developers ($120,730), computer programmers ($93,000), computer network architects ($120,520), computer hardware engineers ($128,170), and electrical and electronics engineers ($101,780), according to the Bureau of Labor Statistics.
Cyber Intelligence and Security graduates can expect both high wages and high demand in the job market. According to the Bureau of Labor Statistics, the 2021 median pay for information security analysts was $102,600, and the workforce is expected to grow by 35 percent between 2021 and 2031.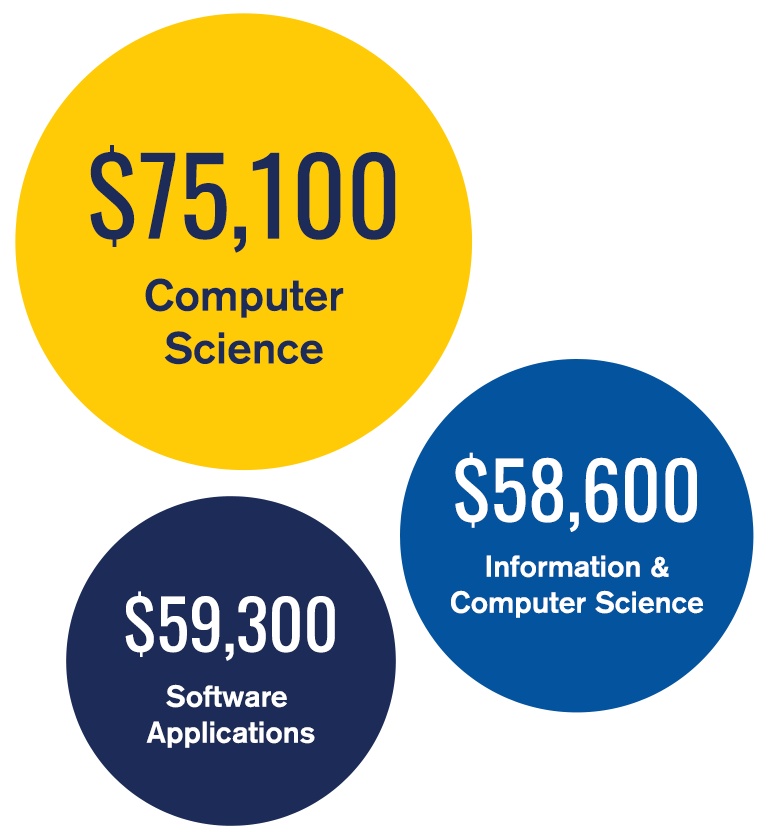 Average starting salary projection for graduates with a bachelor's degree, according to Payscale's College Salary Report 2021.
Source: Payscale
Our faculty and students are actively involved in research related to computers and technology. Read about how they're positively impacting industry in some recent projects below.
Learning Environments at the Daytona Beach Campus
Some of the most modern and high-tech laboratories and equipment in the academic world are found at Embry-Riddle's Daytona Beach Campus.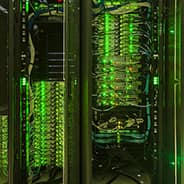 Daytona Beach, FL Campus
At the Daytona Beach Campus, the Lehman Engineering and Technology Center houses many labs that are dedicated to computer-related projects and research.
In an array of well-equipped facilities, students in Computer, Electrical and Software Engineering work together with their Aerospace and Mechanical Engineering classmates on capstone projects and other cutting-edge multidisciplinary efforts, such as autonomous aerial vehicles and other types of robotic systems.
Students incorporate theory with hands-on learning in the Cybersecurity Engineering Lab, Digital Systems Lab and Software Development Lab, among others.