Embry-Riddle: Business Education From the Ground Up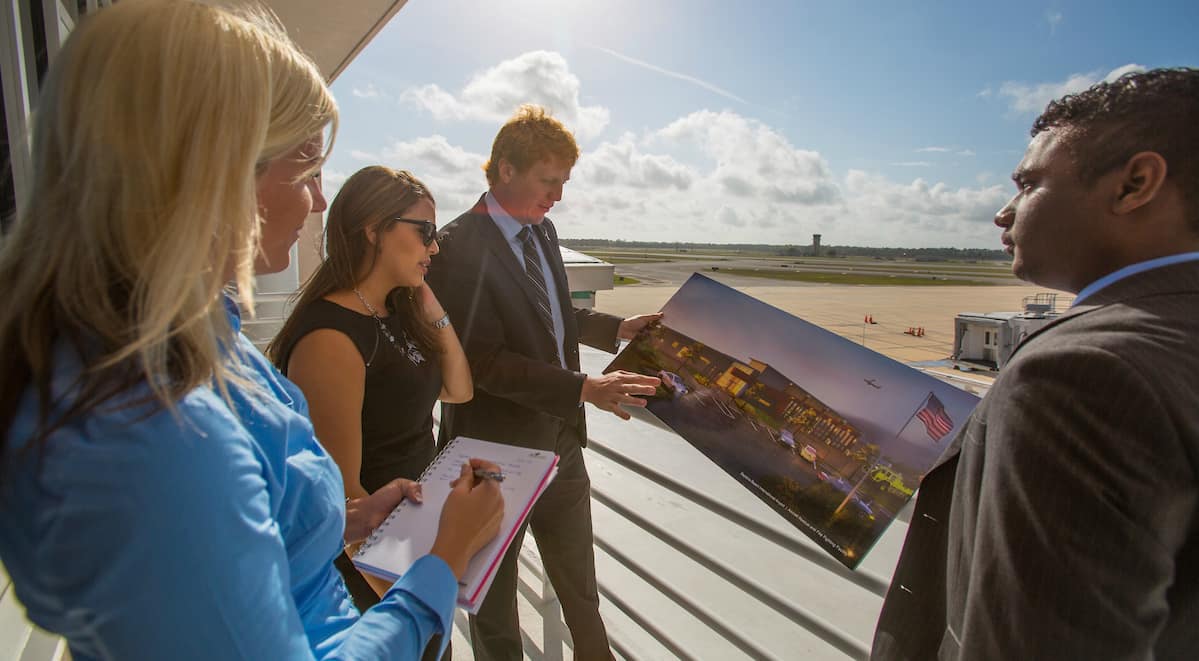 Each of our business degree programs can open the door to an unlimited future — not just in aerospace but in any industry. They also build a solid foundation for entrepreneurs who are dedicated to innovation and discovery.
Business students at Embry-Riddle benefit from meaningful internships with top employers and a global network of connections that includes fellow students, experienced faculty and alumni from top companies who regularly recruit our students.
All of our business faculty members have wide-ranging experience and direct connections to industry, ensuring Embry-Riddle business students get strong fundamentals along with the real-world experience that will set them apart in a competitive job market.
What are Business degrees?
Business degrees open doors to careers that offer excitement and opportunities to continue your growth and advancement. They are especially essential today because of how quickly the global business environment is changing and to account for the advent of new technologies that alter the way business is being done.
Where can I work with a Business degree from Embry-Riddle?
Embry-Riddle graduates with Business degrees work in organizations across the aviation, aerospace and space industries. Some employers include American Airlines, Frontier Airlines, Southwest Airlines, Delta Air Lines, United Airlines, Boeing, Textron, Lockheed Martin, Northrop Grumman, L3-Harris, Rolls Royce, Virgin Galactic, the Greater Orlando Aviation Authority and the Department of Defense.
What are the Business degree programs at the Worldwide Campus?
Our cutting-edge degrees feature bachelor's programs in Aviation Business Administration and Business Analytics, Project Management, and Technical Management; and master's programs in Management, Management Information Systems, Leadership, Engineering, Management Business Administration in Aviation Management and Occupational Safety Management. Each program offers opportunities to gain practical experience and begin building your professional network.
Business Degrees & Programs at the Worldwide Campus
Whatever your goal, Embry-Riddle has a business degree program that can help you reach it. Learn business administration with an aviation and aerospace perspective in areas that include finance, marketing, management, safety, logistics or global business.
Our expert faculty is experienced in using diverse methods of learning that allow you to earn your degree even while you're working.
Learn more about how Embry-Riddle's Worldwide campus can deliver a first-class business education that will work for you.
Warning! This rendering references a missing or unpublished data source.
Review our non-credit continuing education offerings at proed.erau.edu.
An MBA or general business degree from Embry-Riddle's Worldwide campus can help set you on a journey with nearly endless career possibilities.
You may work for an airline as a revenue analyst or marketing director, or become a financial analyst, contracts analyst or project manager for a corporation such as The Boeing Company, Lockheed Martin or dozens of others.
Embry-Riddle offers the opportunity to specialize in a growing and profitable industry that is among the largest in the United States. You'll also be able to take full advantage of new opportunities created by booming growth in Asia and Europe.
Even if aerospace is not your primary focus, a business degree from Embry-Riddle also opens up non-aviation careers at some of the nation's largest and most successful companies, paving the way to a future where you'll be able to command the best positions and the salaries that come along with them.
Our faculty and students are actively involved in business-related research. Read about how they're positively impacting the industry in some recent projects below.