The mission of the lab (currently under development) is to conduct innovative and collaborative spacesuit research and integrate this knowledge into the commercial spaceflight arena while providing a student and faculty-centered education platform that supports critical thinking and creativity.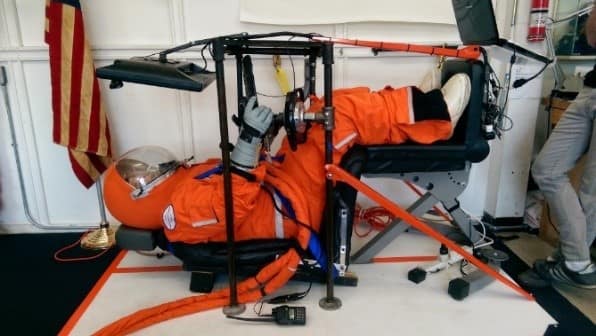 The lab is collaborating with Final Frontier Design to support the commercial spaceflight industry in the development of next-generation space suits. To help protect commercial astronauts embarking on suborbital and orbital missions, a new class of space suit is required. In the lab, suits are being developed and tested that will incorporate technological advances to improve safety and enhance astronaut capabilities during in-flight mission tasks.
Students using a test-stand analogous to a spacecraft cockpit evaluate how crews get into and out of their seats during operational scenarios, assess how crewmembers perform tasks at different suit pressures, and measure a range of motion while crewmembers are performing mission-critical tasks. The suits are also tested to ensure they provide all the necessary functions to support life and sustain the crew in the unlikely event the spacecraft loses pressure. The lab will be located in building 341, room 339.
Potential research topics include comparative testing between suits to determine pressurized and unpressurized comfort and mobility, visibility, Valsalva viability, wind loading protection, flotation provision, ease of donning and doffing, tactility, oxygen breathing system, leakage, structural integrity, altitude protection, ejection G forces, parachute compatibility, slow onset hypoxia, water immersion protection, impact and penetration protection, and use of simulated spacecraft systems while using pressurized gloves.
Final Frontier Design pressure suit
Spacecraft "cockpit" test-stand