The mission of the S.U.I.T. Lab is to conduct innovative and collaborative spacesuit research and integrate this knowledge into the commercial spaceflight arena while providing a student and faculty-centered education platform that supports critical thinking and creativity.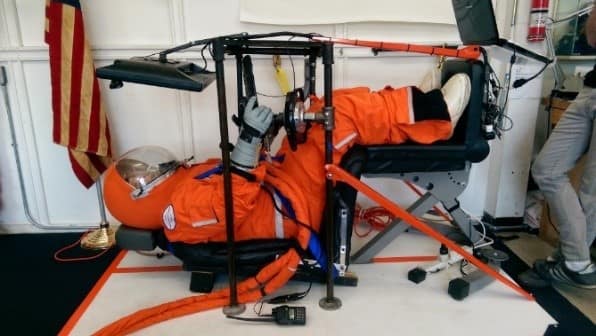 The lab is collaborating with industry partners like Final Frontier Design to support the commercial spaceflight industry in the development of next-generation spacesuits. To help protect commercial astronauts embarking on suborbital and orbital missions, a new class of spacesuit is required. In the lab, suits are being tested and evaluated to aid in the incorporation of technological advances that can improve safety and enhance astronaut capabilities during in-flight mission tasks. The lab is located in building 341, room 355.
The main focus of the lab currently is the use of Motion Capture cameras to track astronaut mobility and range of motion in various spacesuits. The Motion Capture system is used to assess specific parts of the spacesuit, and often times new procedure must be written for smooth data acquisition. The data can then be used in anthropometric models and as input to virtual environments in order to understand the elements of a spacesuit that contribute to the overall safety and efficiency of astronauts in current and future spacesuits. Operational checklist development for in situ spacesuit measurements at field or spaceflight analogue locations (Mars simulations) also aids with efficient and safe space exploration.
The lab extends out from ERAU campus into remote sites across the planet. Operational tasks in spaceflight analogue environments, highlighted by mission simulations, are a key area of activity. Activities in the S.U.I.T Lab utilize unique simulated surface spacesuits within a task-oriented environment for several interdisciplinary studies conducted at remote locations.
Experiential goals consist of training ERAU students in the fundamentals of spacesuit operations in simulated environments starting with intravehicular activity (IVA) in spacecraft cabins and eventually extending research in mission simulations with extravehicular activity (EVA). Research goals aim to provide a testbed for industry partners to receive feedback, data, and recommendations for spacesuit design. This will create research opportunities for faculty, undergraduate, and graduate thesis work as the lab grows into the future.
Equipment:
Motion Capture Cameras with sync hub, markers, and software license

Hexoskin Bio Monitors

GPS Tracker

Underwater Camera

Mobile VR headset

Portable Greenscreen

David Clark U2 Pressure Suit (nonoperational)