The English for Flight Training program consists primarily of two major courses: English for VFR Flight and Aviation English.
English for VFR Flight
English for VFR Flight is a shorter course, around 25 hours, and is designed to help develop the English language skills necessary for successful communication in a flight training program. Classroom sessions prepare students to interact with Air Traffic Controllers by focusing on listening and speaking strategies. The course is co-taught by an Aviation English Instructor and a Certified Flight Instructor.
Goal: Students completing English for VFR Flight should be familiar with foundational radio communications between pilots and Air Traffic Controllers which occur during a VFR flight.
Outcomes:
Use speaking and listening skills to communicate with ATC during routine VFR flight operations with fluency, clarity, and accuracy
Understand and apply Automatic Terminal Information Service (ATIS) communications
Experience flight operations training environments and facilities through up to four guided observation flights
Understand the phases of a routine VFR flight, including Ground Operations, Departure Operations, Practice Area Operations, and Arrival Operations, along with their communicative demands
Aviation English
Aviation English utilizes a flight-based curriculum with authentic flight training materials to focus on ICAO language skills (Interaction, Comprehension, Vocabulary, Structure, Pronunciation, and Fluency. See Figure 2.2. below from ICAO Doc. 9835). Classroom sessions heavily incorporate materials from authentic sources such as Aviation 101 which was developed to introduce learners to general topics related to flying. Students engage with the content of the videos to build both their aviation knowledge and their language proficiency simultaneously.
Goal: Students completing Aviation English should demonstrate an understanding and application of foundational topics related to flight through speaking, listening, and reading skills.
Outcomes:
Understand basic aviation-related vocabulary and content as it pertains to flight training and the broader aviation context
Interact with common, concrete aviation-related topics with accuracy, fluency, and clarity
Use communicative strategies to exchange messages and to recognize and resolve misunderstandings
Use relevant grammatical structures and sentence patterns creatively and in a well-controlled manner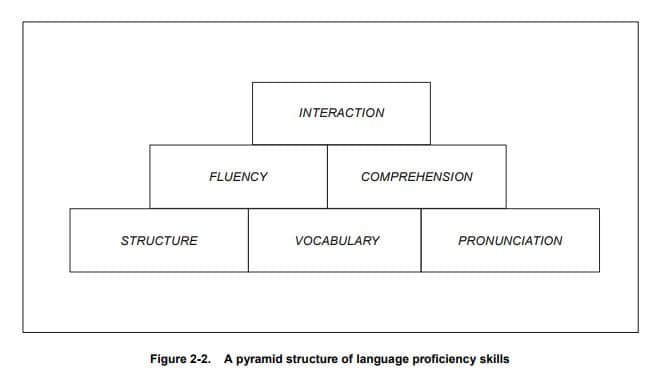 An Oral Proficiency Interview is available at the end of every term point (six points throughout the year) for a fee. This interview will assess candidates' readiness for flight training. Students who pass the OPI are eligible to receive a Certificate of Recommendation for Flight Training from the Embry-Riddle Language Institute.