Numerical research in unsteady aerodynamics, acoustics, aeroelasticity, flow, and flight control are performed in the Propulsion and Aerodynamics Computational Laboratory (PACL).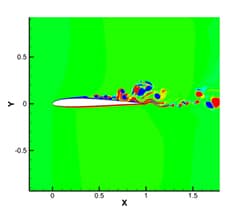 Computational fluid dynamics (CFD) software and industry-standard commercial codes, including CFX, Fluent, and Star-CCM+, as well as in-house research codes (including FDL3DI and BASS high-order codes for subsonic aerodynamic flows and HYP for hypersonic propulsion flows), are employed in high-fidelity simulations involving both the lab twelve dual-boot (Linux/Windows) workstations and Zeus HPC system.
The equipment found in the PACL is used by undergraduate students, graduate students, research faculty, and industrial partners. Numerical studies performed here are supported by Air Force Office of Scientific Research (AFOSR), National Science Foundation (NSF), Florida Center for Advanced Aero-Propulsion (FCAAP), and United Launch Alliance (ULA) grants.
Other research programs include unsteady aerodynamics, acoustics, aeroelasticity and flow, and flight control.