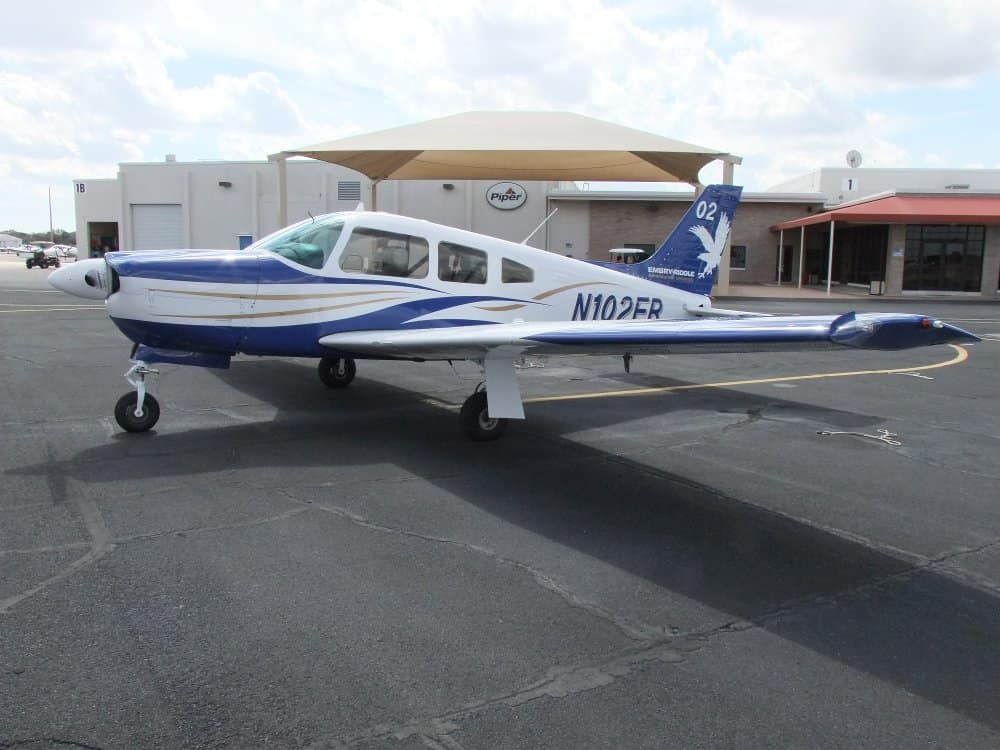 The reliable Piper Arrow has been the foundation of Embry-Riddle Daytona Beach's single-engine, complex aircraft training program since 2002.
The Arrow combines a rugged, proven airframe with forgiving flight characteristics to create an aircraft that is ideal for students transitioning from the basic Cessna 172 to a high-performance aircraft with a constant-speed propeller and retractable landing gear.
Embry-Riddle's Arrows are powered by 200-horsepower Lycoming engine. Their cockpits feature a modern avionics suite that includes a Garmin GPSMAP 420 and a GMX200 full-color, multi-function display unit. To enhance safety and situational awareness, our Piper Arrows are also equipped with Automatic Dependent Surveillance-B (ADS-B) capabilities to provide real-time traffic and weather information.
In well over a decade and tens of thousands of hours of service, the Piper Arrow has continually proven itself to be the ideal platform for providing flight students with both valuable complex aircraft experience and for meeting the regulatory requirements established by the FAA for commercial pilot certification.
Specifications
Speeds
Maximum Speed
145 knots

Cruise, 75 Percent Best Power Mixture

137 knots

Stall Speed, Flaps Down
55 knots
Performance
Range, 55 Percent Power at 9,000 Feet

880 nautical miles

Service Ceiling
16,200 feet
Takeoff Distance over 50-Foot Obstacle
1,600 feet
Landing Distance over 50-Foot Obstacle
1,520 feet
Weights & Loads
Maximum Takeoff or Landing Weight
2,750 pounds
Useful Load
960 pounds
Standard Empty Weight
1,790 pounds
Fuel
Usable Fuel
72 gallons
Engine & Propeller
Engines
Lycoming 200 horsepower at 2,700 RPM Direct Drive, 4-Cylinder, Fuel-Injected, Dual Ignition with Radio Shielding
Propeller
McCauley 2 Blade, Constant Speed Propeller